Article information
Abstract
Full Text
Bibliography
Download PDF
Statistics
Tables (7)
Tabla 2. Análisis modal de fallos y efectos en la Unidad de Ensayos Clínicos. Proceso de recepción de muestras
Tabla 3. Análisis modal de fallos y efectos en la Unidad de Ensayos Clínicos. Proceso de custodia de muestras
Tabla 4. Análisis modal de fallos y efectos en la Unidad de Ensayos Clínicos. Proceso de Prescripción/validación de muestras
Tabla 5. Análisis modal de fallos y efectos en la Unidad de Ensayos Clínicos. Proceso de preparación/aleatorización de muestras
Tabla 6. Análisis modal de fallos y efectos en la Unidad de Ensayos Clínicos. Proceso de dispensación de muestras
Tabla 7. Análisis modal de fallos y efectos en la Unidad de Ensayos Clínicos. Proceso de visita de inicio de ensayo clínico
Resumen
Introducción
El análisis modal de fallos y efectos (AMFE) se ha utilizado como una herramienta en la gestión de los riesgos y la planificación de la calidad. El objetivo de este estudio es identificar de forma sistemática todas las debilidades en los procesos de la Unidad de Ensayos Clínicos de un Servicio de Farmacia Hospitalaria (SFH) con gran actividad investigadora, con el fin de mejorar su seguridad de los procedimientos habituales.
Métodos
Se creó un equipo de trabajo multidisciplinar para analizar cada uno de los puntos críticos, identificados como posibles oportunidades de fallo, del desarrollo de los ensayos clínicos en el SFH. Para cada modo de fallo se identificó la posible causa y efecto, se calculó la criticidad mediante el número de prioridad de riesgo y se discutieron las posibles acciones correctoras.
Resultados
Se definieron 6subprocesos en la actividad de los ensayos clínicos en el SFH. El AMFE determinó 67 posibles fallos, siendo el subproceso de dispensación y prescripción/validación los más susceptible de generar errores. Todas las acciones de mejora establecidas en el AMFE fueron implementadas en la Unidad de Ensayos Clínicos.
Discusión
El AMFE se trata de una herramienta útil en la gestión proactiva de los riesgos ya que nos permite identificar dónde estamos cometiendo errores y analizar las causas que los originan, para priorizar y adoptar soluciones definitivas a la reducción de riesgos. Todo ello trae consigo la mejora en la seguridad de los procesos y en la calidad del SFH.
Palabras clave:
Calidad
Ensayos clínicos
Gestión de riesgos
Seguridad
Análisis modal de fallos y efectos
Abstract
Introduction
The failure mode and effects analysis (FMEA) has been used as a tool in risk management and quality improvement. The objective of this study is to identify the weaknesses in processes in the clinical trials area, of a Pharmacy Department (PD) with great research activity, in order to improve the safety of the usual procedures.
Methods
A multidisciplinary team was created to analyse each of the critical points, identified as possible failure modes, in the development of clinical trial in the PD. For each failure mode, the possible cause and effect were identified, criticality was calculated using the risk priority number and the possible corrective actions were discussed.
Results
Six sub-processes were defined in the development of the clinical trials in PD. The FMEA identified 67 failure modes, being the dispensing and prescription/validation sub-processes the most likely to generate errors. All the improvement actions established in the AMFE were implemented in the Clinical Trials area.
Discussion
The FMEA is a useful tool in proactive risk management because it allows us to identify where we are making mistakes and analyze the causes that originate them, to prioritize and to adopt solutions to risk reduction. The FMEA improves process safety and quality in PD.
Keywords:
Quality
Clinical trial
Risk management
Safety
Failure mode and effect analysis
Article
These are the options to access the full texts of the publication Journal of Healthcare Quality Research
Subscribe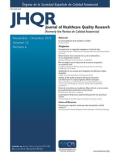 Subscribe to
Journal of Healthcare Quality Research
Contact
Telephone
From Monday to Friday from 9 a.m. to 6 p.m. (GMT + 1) except for the months of July and August which will be from 9 a.m. to 3 p.m.
Calls from Spain
902 88 87 40
Calls from outside Spain
+34 932 418 800
E-mail