Article information
Abstract
Full Text
Bibliography
Download PDF
Statistics
Resumen
Introducción
La dispensación y la atención farmacéutica a los pacientes externos (PEX) constituyen en la actualidad una de las principales ocupaciones de los servicios de farmacia hospitalaria. Existen diversos cuestionarios para medir la satisfacción de los PEX de un servicio de farmacia, cuyos resultados pueden generar acciones de mejora que redunden en la satisfacción.
Objetivos
Evaluar si un cuestionario de satisfacción para PEX es válido para la generación de mejoras de la atención prestada y, si tras su implantación, el mismo cuestionario es capaz de detectar cambios en la satisfacción.
Material y método
Estudio prospectivo unicéntrico realizado en un hospital terciario en los años 2015 y 2016. Se utilizó un cuestionario validado previamente con 16 ítems de escala de tipo Likert. Se realizó un análisis descriptivo y para el cálculo de la consistencia interna se empleó el valor α de Cronbach.
Resultados
Se recogieron 258 cuestionarios en 2015 (preimplantación) y 493 en 2016 (postimplantación). No hubo diferencias en las características de partida de los pacientes y usuarios del servicio. Los ítems con puntuaciones de satisfacción más bajas en 2015 (la comodidad de la sala de espera, privacidad en la dispensación, tiempo de espera para recoger los medicamentos y horario de recogida de medicamentos) guiaron las acciones de mejora para implementar. Tras la puesta en marcha de las sugerencias, en 2016 hubo una mejora en las puntuaciones de tiempo de espera hasta la recogida en 12,3% (p = 0,002), en la comodidad de la sala de espera de 4,9% (p = 0,304), en el horario de recogida de medicación en un 10,7% (p = 0,013) y en confidencialidad de la dispensación en un 4% (p = 0,292). El resto de las puntaciones fluctuaron mínimamente, sin alcanzar ninguna diferencia la significación estadística. Se encontró una mejora del 5,1% en la satisfacción global (p < 0,001). Los valores de satisfacción obtenidos en conjunto fueron altos.
Conclusiones
En las condiciones del estudio, el cuestionario de satisfacción es un instrumento válido para la generación de acciones de mejora en la atención recibida en una unidad de PEX de un servicio de farmacia. Este mismo cuestionario constituye una herramienta para monitorizar los cambios implantados para la mejora de la atención recibida.
Palabras clave:
Satisfacción
Cuestionario
Pacientes externos
Farmacia
Calidad
Abstract
Introduction
Pharmaceutical care to outpatients is currently one of the main occupations of hospital pharmacy services (PEX). There are several questionnaires to measure the satisfaction of the PEX of a pharmacy service, and the results of these questionnaires can generate improvement actions that result in satisfaction.
Objectives
To verify if a satisfaction questionnaire for outpatients is valid for the generation of improvements in the care provided, and if after its implementation, the same questionnaire is able to detect changes in satisfaction.
Material and method
Prospective study of a single center carried out in a tertiary hospital in 2015 and 2016. A questionnaire previously validated with 16 Likert-type items was used. Demographic and classification data were collected. A descriptive analysis was performed and the internal consistency was calculated using the Cronbach's α value.
Results
A total of 258 questionnaires were collected in 2015 and 493 in 2016. There were no differences in the baseline characteristics of the patients and users of the service. The items with the lowest satisfaction scores in 2015 (comfort of the waiting room, dispensing privacy, drug pick-up time and medication pick-up time) guided the improvement actions to be implemented. In 2016 there was an improvement in the waiting time until collection in 12.3% (p = 0.002); in the comfort of the waiting room 4.9% (p = 0.304); business hours for medication collection, 10.7% (p = 0.013); and in the confidentiality of the dispensation 4% (p = 0.292). The remaining scores fluctuated minimally, with no statistical significance at all. A 5.1% improvement in overall satisfaction was found (p < 0.001). Satisfaction values obtained as a whole were high.
Conclusions
The satisfaction questionnaire is a valid instrument for generating actions to improve the care received in an outpatient unit of a pharmacy service. This same questionnaire is a tool to monitor the changes implemented to improve the care received.
Keywords:
Patient satisfaction
Surveys and questionnaires
Outpatients
Pharmacy
Quality improvement
Article
These are the options to access the full texts of the publication Journal of Healthcare Quality Research
Subscribe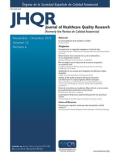 Subscribe to
Journal of Healthcare Quality Research
Contact
Telephone
From Monday to Friday from 9 a.m. to 6 p.m. (GMT + 1) except for the months of July and August which will be from 9 a.m. to 3 p.m.
Calls from Spain
902 88 87 40
Calls from outside Spain
+34 932 418 800
E-mail