Article information
Abstract
Full Text
Bibliography
Download PDF
Statistics
Tables (3)
Tabla 1. Comparación de los datos demográficos, diagnósticos y microbiológicos entre los grupos de pacientes diagnosticados de enfermedad tuberculosa pre y postimplantación del protocolo

Tabla 2. Número de ingresos hospitalarios de los pacientes diagnosticados de enfermedad tuberculosa durante los periodos pre y postimplantación del protocolo

Tabla 3. Comparación de las variables relacionadas con el tratamiento tuberculostático entre los pacientes del periodos pre y postimplantación del protocolo
Resumen
Objetivo
Analizar los resultados de la implantación de un protocolo de abordaje ambulatorio del paciente pediátrico con enfermedad tuberculosa y compararlo con el manejo previo.
Material y métodos
Se estudiaron todos los pacientes menores de 14 años diagnosticados de enfermedad tuberculosa en Cantabria entre los años 2005 y 2014. Hasta el año 2010 todos los pacientes ingresaban para la recogida de aspirados gástricos e inicio de tratamiento (periodo preimplantación). A partir del año 2010 se instauró un protocolo para el manejo ambulatorio, ingresando únicamente por motivos clínicos o sociales (periodo postimplantación).
Resultados
Se estudiaron 82 pacientes: 29 del grupo preimplantación y 53 post implantación. Se ingresaron sistemáticamente todos los pacientes del grupo preimplantación frente al 26,4% del postimplantación (p<0,001) La estancia media fue inferior en el grupo postimplantación (3,4±11,5 días vs. 7,3±7,1 días p<0,0001). Solo en el 6,9% de los pacientes del primer grupo se extrajeron las 3 muestras microbiológicas recomendadas en las guías para el diagnóstico, frente al 73,5% del segundo grupo (p<0,001). El 26,6% de los cultivos realizados fue positivo a Mycobacterium tuberculosis: 37,5% del grupo preimplantación y 21,6% del postimplantación (p=0,121). En otros parámetros relativos al tratamiento como: adherencia terapéutica, pautas de tratamiento no ajustadas a las guías, abandono y recaídas no se detectaron diferencias significativas.
Discusión
Aunque en las guías se recomienda la extracción de 3 muestras para cultivo microbiológico no se detectó incremento del aislamiento microbiológico en los pacientes a los que se extrajeron mayor número de muestras respiratorias. El manejo en consultas hospitalarias de los pacientes con sospecha de tuberculosis, cuya situación clínica lo permite, presenta resultados clínicos y microbiológicos similares o mejores al manejo previo, con menor tasa de ingreso hospitalario y con el consiguiente ahorro de costes.
Palabras clave:
Tuberculosis
Protocolo
Cultivo
Aspirado gástrico
Hospitalización
Ahorro costes
Abstract
Objective
To assess the results of the implementation of a protocol for the outpatient management of paediatric patients with tuberculosis, and to compare it with the previous approach.
Material and methods
All patients younger than 14 years of age diagnosed with tuberculosis in Cantabria between 2005 and 2014 were included in the study. The pre-implementation period included patients admitted for gastric aspirate collection and to start treatment until 2010 (Pre-group). The post-implementation period was from 2010 onwards, using a protocol established for the outpatient management of these patients, with admission only being for clinical or social reasons, post-implantation period (Post-group).
Results
A total of 82 patients were studied: 29 from the Pre-group and 53 from Post-group. The median age was 61 months (IQR 32.5-97.75). All patients in the Pre-group were systematically admitted, compared to 26.4% of the Post-group (P<.001). The mean hospital stay was higher (7.27±7.1 days) in the Pre-group than in Post-group (3.4±11.46 days) (P<.0001). Only in 6.9% of patients from Pre-group were the 3 microbiological samples recommended for diagnosis following the international guidelines were provided, whereas they were provided by 73.58% patients from Post-group (P<.001). Of the cultures performed, 26.6% were positive for Mycobacterium tuberculosis, 37.5% of the Pre-group and 21.6% of the Post-group (P=.121). No significant differences were observed between the groups in other parameters related to treatment such as, therapeutic adherence, treatment not adjusted to the guidelines, treatment withdrawal or relapse..
Discussion
Although guidelines recommend three microbiological samples for culture, no superior microbiological isolation was detected despite the increased number of samples collected. The management in hospital clinics of patients with suspected tuberculosis with stable clinical situation show similar or better clinical and microbiological results to the previous management, with lower hospital admission rate and with the subsequent cost savings.
Keywords:
Tuberculosis
Protocol
Culture
Gastric aspirate
Hospital admission
Cost savings
Article
These are the options to access the full texts of the publication Journal of Healthcare Quality Research
Subscribe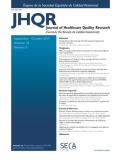 Subscribe to
Journal of Healthcare Quality Research
Contact
Phone for subscriptions and reporting of errors
From Monday to Friday from 9 a.m. to 6 p.m. (GMT + 1) except for the months of July and August which will be from 9 a.m. to 3 p.m.
Calls from Spain
932 415 960
Calls from outside Spain
+34 932 415 960
E-mail