Article information
Abstract
Full Text
Bibliography
Download PDF
Statistics
Abstract
Objective
Being sued for malpractice is extremely stressful and potentially traumatizing. We aim to identify claims' consequences on the physicians' well-being and medical practice.
Material and methods
We administered a confidential telephonic survey to those physicians with a claim closed during 2014, among those insured by the main professional liability insurance company in the region. The questionnaire addressed several topics: symptoms and well-being changes, needs, impairments and practice changes. We used descriptive statistics as well as Chi-square and T-Student tests.
Results
A total of 99 physicians responded to the questionnaire (response rate of 64.7%). Most of them (80.8%) acknowledged having suffered a significant emotional distress, no matter the claim's outcome (p=0.958) or the kind of procedure (p=0.928). Anger and mood cluster of symptoms were frequent, and the experience frequently affected their personal, family or social life and professional conduct. Practice changes correlated significantly and positively with the number of symptoms reported (p=0.010), but not with the outcome of the claim (p=0.338) or the kind of procedure (p=0.552).
Conclusions
Most claimed physicians suffer a significant emotional distress after a malpractice claim, which affects their professional performance. According to our results, they should be assessed and assisted in order to minimize the negative consequences on their well-being and their praxis.
Keywords:
Post traumatic stress disorder
Malpractice
Professional liability
Claims review
Claims analysis
Resumen
Objetivo
Ser reclamado por presunta malapraxis es una vivencia sumamente estresante. El presente trabajo estudia las consecuencias de estas reclamaciones en el bienestar de los profesionales y su praxis.
Material y método
Administramos una encuesta telefónica confidencial a médicos con reclamaciones cerradas durante 2014, entre aquellos asegurados por la principal compañía de responsabilidad profesional en Cataluña. El cuestionario abordaba variables sobre sintomatología y cambios en el bienestar de los facultativos, necesidades, deterioro y cambios en la conducta profesional. Se realizó el estudio descriptivo así como el estudio analítico mediante las pruebas de Chi-cuadrado y la t de Student.
Resultados
Un total de 99 facultativos respondieron el cuestionario (tasa de respuesta del 64,7%). La mayoría de facultativos (80,8%) reconoció una reacción emocional significativa tras la reclamación. Los síntomas de ansiedad o estado de ánimo fueron frecuentes y la experiencia con frecuencia afectó a su vida personal, familiar, social y su conducta profesional. La identificación de cambios en la praxis correlacionó significativa y positivamente con el número de síntomas sufridos (p=0,010), pero no con la concurrencia de responsabilidad profesional (p=0,338) o el tipo de procedimiento (p=0,552).
Conclusiones
La mayoría de médicos reclamados sufren una afectación emocional significativa tras una reclamación, lo que afecta a su desempeño profesional. De acuerdo con nuestros resultados, los médicos reclamados deben ser evaluados y atendidos con el objetivo de minimizar las consecuencias negativas en su bienestar y en su praxis.
Palabras clave:
Síndrome de estrés por mala praxis
Mala praxis
Responsabilidad profesional
Revisión de reclamaciones
Análisis de reclamaciones
Article
These are the options to access the full texts of the publication Journal of Healthcare Quality Research
Subscribe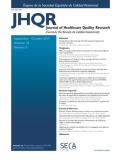 Subscribe to
Journal of Healthcare Quality Research
Contact
Phone for subscriptions and reporting of errors
From Monday to Friday from 9 a.m. to 6 p.m. (GMT + 1) except for the months of July and August which will be from 9 a.m. to 3 p.m.
Calls from Spain
932 415 960
Calls from outside Spain
+34 932 415 960
E-mail