Article information
Abstract
Full Text
Bibliography
Download PDF
Statistics
Tables (5)
Tabla 2. Uso de la telemedicina según características demográficas y profesionales
Tabla 3. Resultados del análisis factorial exploratorio
Tabla 4. Variables de estudio
Tabla 5. Relaciones entre las variables exploratorias y el uso de la telemedicina
Resumen
Introducción
Existen numerosos factores y barreras que dificultan el uso de la telemedicina, entre las que destacan los aspectos de la organización, por lo que resulta interesante conocer su intención de uso en una institución sanitaria. El objetivo de este trabajo fue identificar los factores que influyen en la intención de usar la telemedicina por parte del colectivo de profesionales del Servicio Andaluz de Salud y la tipología del profesional en función del uso y expectativas de las TIC.
Métodos
Se diseñó un cuestionado específico basado en el Modelo de Aceptación Tecnológica ampliado, que se distribuyó entre una muestra de 2.847 profesionales de todas las categorías de esta institución. Se realizó un análisis univariante, análisis factorial exploratorio y regresión logística para determinar aquellas variables explicativas que se relacionaban con el uso de la telemedicina.
Resultados
Se obtuvieron 424 respuestas. El estudio determinó que el apoyo de la institución, la utilidad percibida y la facilidad de uso (p<0,05) eran factores que influyen en el uso de la telemedicina. Ni el apoyo de los trabajadores ni el perfil tecnológico de los profesionales (p>0,05) resultaron significativos.
Conclusiones
Debido al elevado número de factores existentes en los servicios de salud es posible encontrar diferencias entre los modelos explicativos en cada organización en concreto. Por ello, es necesario realizar estudios antes de la implantación y uso de sistemas de telemedicina para identificar cuáles de las variables posibles influyen en la adopción favorable como prerrequisito para la generalización de la telemedicina.
Palabras clave:
Telemedicina
Innovación organizacional
Encuestas y cuestionarios
Abstract
Introduction
There are numerous factors and barriers that hinder the use of telemedicine, among which some aspects of the organisation stand out. Thus, it would be interesting to determine its intention to use it in a health institution. The objective of this paper was to identify the factors that influence the intent to use telemedicine by the group of professionals of the Andalusian Health Service and the type of professionals based on the use and expectations of (information and communications technology (ICT).
Methods
A specific questionnaire was designed based on an extended Model of Technological Acceptance that was distributed to a sample of 2,847 professionals of all the categories of this institution. A univariate analysis, exploratory factor analysis and logistic regression were carried out to determine those explanatory variables that are related to the use of telemedicine.
Results
A total of 424 responses were obtained. The study determined that the institution's support, perceived usefulness and ease of use (P<.05) were factors that influence the use of telemedicine. The support of the workers and the technological profile of the professionals (P<.05) were significant.
Conclusions
Due to there being a high number of factors in health services, it is possible to find differences between the explanatory models in each specific organisation. For this reason, studies need to be carried out before the implantation and use of telemedicine systems in order to identify which of the possible variables influence favourable adoption as a prerequisite for the generalised use of telemedicine.
Keywords:
Telemedicine
Organisational innovation
Surveys and Questionnaires
Article
These are the options to access the full texts of the publication Journal of Healthcare Quality Research
Subscribe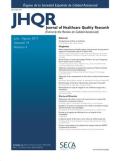 Subscribe to
Journal of Healthcare Quality Research
Contact
Phone for subscriptions and reporting of errors
From Monday to Friday from 9 a.m. to 6 p.m. (GMT + 1) except for the months of July and August which will be from 9 a.m. to 3 p.m.
Calls from Spain
932 415 960
Calls from outside Spain
+34 932 415 960
E-mail