Article information
Abstract
Full Text
Bibliography
Download PDF
Statistics
Resumen
Introducción
La implantación del Modelo Europeo de Excelencia (EFQM) en organizaciones sanitarias se ha realizado con desigual intensidad, pero con el suficiente recorrido para ver su impacto. El objetivo de este trabajo fue conocer el impacto del modelo EFQM en una organización sanitaria, a través de su cultura y, en especial, en su sostenibilidad.
Materiales y métodos
El método utilizado ha sido el estudio de caso, llevado a cabo en la Organización Sanitaria Integrada Bilbao-Basurto usando metodología cualitativa. Se han identificado elementos de la cultura organizacional del centro a través del análisis de 12 entrevistas semiestructuradas a personas relevantes (expertos, responsables de calidad, mandos intermedios y directivos) en la organización.
Resultados
La implantación del modelo ha introducido conceptos y valores relacionados con la excelencia en la cultura organizacional. Proporciona motivación a las personas y herramientas para la mejora continua y la adaptabilidad. Orienta a la organización en el camino de la sostenibilidad.
Conclusiones
La cultura organizacional reforzada por el trabajo con el modelo EFQM proporciona un apoyo a la sostenibilidad, manifestada a través de un conjunto compartido de creencias y de imágenes mentales comunes que muestra una imagen positiva de la organización y confianza en el futuro.
Palabras clave:
Cultura organizacional
Gestión de la calidad total
Desarrollo sostenible
Abstract
Introduction
The implementation of the European Model of Excellence (EFQM) in health organisations has been carried out with varying intensity, but with enough time to assess its impact. The objective of this work is to determine the effect that the EFQM model has had in health organisations, and especially in its sustainability.
Materials and methods
A case-study method was conducted in the Bilbao-Basurto Integrated Healthcare Organisation using qualitative methodology. Elements of the centre's culture were identified by analysing 12 semi-structured interviews with relevant people (experts, quality managers, middle managers, and managers) within the organisation.
Results
The implementation of the model has introduced concepts and values related to excellence in the organisational culture. It provides motivation for people, as well as the tools for continuous improvement and adaptability. The organisation is on the way to sustainability.
Conclusions
The organisational culture reinforced by working with the EFQM model has provided support for sustainability, manifested through a shared set of beliefs and common mental images that show a positive image of the organisation, and confidence in the future.
Keywords:
Organisational culture
Total quality management
Sustainable development
Article
These are the options to access the full texts of the publication Journal of Healthcare Quality Research
Subscribe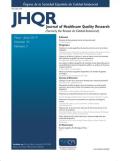 Subscribe to
Journal of Healthcare Quality Research
Contact
Phone for subscriptions and reporting of errors
From Monday to Friday from 9 a.m. to 6 p.m. (GMT + 1) except for the months of July and August which will be from 9 a.m. to 3 p.m.
Calls from Spain
932 415 960
Calls from outside Spain
+34 932 415 960
E-mail