Article information
Abstract
Full Text
Bibliography
Download PDF
Statistics
Abstract
Background
X-linked agammaglobulinaemia (XLA) is a genetic disorder affecting B cell maturation, which is characterised by a low number of B cells, agammaglobulinaemia and increased susceptibility to a variety of bacterial infections. This study was performed to assess T cell subpopulations in a group of children with XLA in association with chronic respiratory disease (CRD).
Methods
Numbers of T cell subpopulations (CD3+, CD4+, CD8+, CD3+DR+, naïve, memory, recent thymic emigrants (RTE), regulatory T cells, follicular T helpers) were measured by eight-colour flow cytometry in 22 XLA patients and 50 controls. BAFF level was measured by ELISA.
Results
XLA patients with CRD had a significantly lower percentage of RTE numbers and Tregs, while significantly higher absolute counts of lymphocytes, CD3+, CD8+, CD3+DR+ and CD4+CD45RO+ T cells were detected as compared with healthy controls. In patients with XLA without CRD, the number of follicular T helper cells was altered significantly (percentage and absolute), as compared with healthy controls. Additionally, they had significantly higher counts (percentage and absolute) of CD4+CD45RA+ cells and lower percentage of CD4+CD45RO+ cells in comparison with healthy controls.
Conclusions
Our study affords new information concerning CRD and T cell subsets that differentiate or are maintained in the absence of B cells in children with XLA. T cell's homeostasis depends on the presence of chronic respiratory disease that may be caused by the delay in diagnosis.
Keywords:
X-linked agammaglobulinaemia
T cells
BAFF
Chronic lung infections
Chronic sinusitis
Article
These are the options to access the full texts of the publication Allergologia et Immunopathologia
Subscribe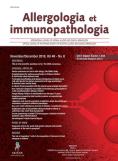 Subscribe to
Allergologia et Immunopathologia
Contact
Telephone
From Monday to Friday from 9 a.m. to 6 p.m. (GMT + 1) except for the months of July and August which will be from 9 a.m. to 3 p.m.
Calls from Spain
902 88 87 40
Calls from outside Spain
+34 932 418 800
E-mail