Article information
Abstract
Full Text
Bibliography
Download PDF
Statistics
Abstract
Background
It has been reported that ADAM33 (a disintegrin and metalloproteinase domain 33) polymorphisms might be associated with susceptibility to allergic rhinitis (AR).
Objective
Owing to mixed and inconclusive results, we conducted a meta-analysis to systematically summarise and clarify the association between ADAM33 S2, V4, T1, T2 and T+1 polymorphisms and AR risk.
Methods/results
A systematic search of studies on the association of ADAM33 polymorphisms with susceptibility to AR was conducted in Pubmed and Embase. A total of five case–control studies with 1251 patients and 1634 controls were included. Meta-analysis indicated an association between the ADAM33 S2 and AR in allele comparison (G/C:OR=1.40, 95% CI 1.08–1.82, P=0.012), heterozygote comparison (CG/CC:OR=1.24, 95% CI 1.04–1.48, P=0.015), and dominant comparison (CG+GG/CC:OR=1.39, 95% CI 1.05–1.85, P=0.023). The meta-analysis also revealed an association between the ADAM33 V4 and AR in allele comparison (G/C:OR=1.67, 95% CI 1.01–2.75, P=0.044). However, no association was found between AR and the ADAM33 T1, T2 and T+1 polymorphisms in any gene model comparison.
Conclusions
This meta-analysis demonstrates that the ADAM33 S2 and V4 polymorphisms confer susceptibility to AR. However, these results should be interpreted with caution due to limited sample and heterogeneity. Large-scale and well-designed studies are needed to validate our findings.
Keywords:
ADAM33
Allergic rhinitis
Meta-analysis
Polymorphisms
Susceptibility
Article
These are the options to access the full texts of the publication Allergologia et Immunopathologia
Subscribe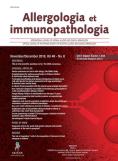 Subscribe to
Allergologia et Immunopathologia
Contact
Telephone
From Monday to Friday from 9 a.m. to 6 p.m. (GMT + 1) except for the months of July and August which will be from 9 a.m. to 3 p.m.
Calls from Spain
902 88 87 40
Calls from outside Spain
+34 932 418 800
E-mail