Full Text
Dear Editor:
Differential diagnosis of bilateral vision loss with optic disc oedema includes intracranial hypertension and such other causes of optic neuropathy as bilateral anterior ischaemic optic neuropathy, infiltrative or compressive optic neuropathy, inflammatory neuropathy, Leber hereditary optic neuropathy, and hypertensive crises.
We present the case of a patient with bilateral ischaemic optic neuropathy in the context of optic nerve drusen; the main differential diagnosis considered was fulminant idiopathic intracranial hypertension.
The patient was a 33-year-old woman who visited our hospital due to a 3-day history of perception of a shadow in both eyes, especially in the upper visual field, with no associated pain or headache. She had no relevant medical history. She presented 20/20 visual acuity in both eyes and tested 20/20 on the Ishihara test; pupils were isochoric, with no afferent defect, and normal, non-painful extrinsic motility. Motor balance was preserved, with no sensory deficits or gait alterations. Eye fundus examination detected drusen in the right optic nerve and bilateral optic disc oedema. Papillary optic coherence tomography (OCT) revealed bilateral thickening of the retinal nerve fibre layer, and autofluorescence detected drusen in both optic nerves. The visual field was markedly reduced in both eyes (Fig. 1). OCT found no alterations in the retinal ganglion cell layer. MRI and MRI angiography (venous phase) yielded normal results, detecting no indirect signs of intracranial hypertension or contrast uptake in the optic nerves. Lumbar puncture opening pressure was 14 cm H2O, and CSF analysis yielded normal results. Optic disc oedema progressed to optic nerve atrophy, with severe ganglion cell involvement; only central vision was preserved.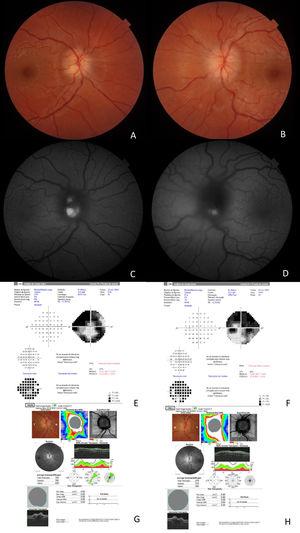 Figure 1.
(A) Optic disc oedema in the right eye. (B) Optic disc oedema in the left eye. (C) Autofluorescence study: hyperfluorescence indicates presence of drusen in the right eye. (D) Autofluorescence study: hyperfluorescence indicates presence of drusen in the left eye. (E) The visual field of the right eye shows marked visual field constriction. (F) The visual field of the left eye shows marked visual field constriction. (G) OCT of the right eye reveals increased retinal nerve fibre layer thickness. (H) OCT of the left eye reveals increased retinal nerve fibre layer thickness.
(0.6MB).
Optic disc drusen (not to be mistaken with macular drusen) are acellular deposits of mucopolysaccharides, iron, calcium, amino acids, and nucleic acids, and can become calcified over time. Their pathogenesis is unclear, but several hypotheses have been proposed1. They are located anterior to the lamina cribrosa at the head of the optic nerve. Development of optic disc drusen follows an autosomal dominant inheritance pattern with incomplete penetrance2. Drusen are usually "buried" in childhood and become superficial as the patient ages. Buried drusen can be difficult to differentiate from other causes of optic disc oedema.
In our patient, one possible diagnosis was bilateral ischaemic optic neuropathy caused by the drusen. However, the presence of drusen does not rule out other optic nerve diseases; fulminant idiopathic intracranial hypertension and a bilateral, atypical form of optic neuritis were therefore also considered in the differential diagnosis.
The aetiology of ischaemic optic neuropathy is not well understood, although the condition is thought to be caused by a compartment syndrome secondary to axonal oedema in "crowded" optic discs (with little or no optic disc cupping), leading to ganglion cell apoptosis. Intracranial hypertension may also lead to a compartment syndrome in the optic nerve head; therefore, both cases may have the same clinical presentation.
Although optic disc drusen were identified in the initial examination, the low incidence of bilateral ischaemic neuropathy made it necessary to rule out intracranial hypertension. The patient did not present headache; although this symptom does not always present in patients with intracranial hypertension, it is relatively frequent, occurring in up to 84% of patients3. Normal CSF opening pressure and the absence of indirect signs of intracranial hypertension on imaging studies also helped to rule out intracranial hypertension4.
Bilateral ischaemic optic neuropathy is rare; it has been described in patients with arterial hypotension in the context of cardiothoracic surgery with blood loss, haemodialysis, and Behçet disease5. In our patient, we were unable to detect any trigger factors for the episode of bilateral ischaemia.
Optic disc drusen are asymptomatic in most cases, although 87% of patients present visual field defects2.
Drusen may be diagnosed by ultrasound, autofluorescence (which detects superficial drusen), or such novel OCT modalities as enhanced depth imaging OCT and OCT angiography6.
More rarely, optic disc drusen can be symptomatic, manifesting with visual field defects; peripapillary, retinal, or vitreous haemorrhage; choroidal neovascular membranes; retinal vein occlusion; and non-arteritic anterior ischaemic optic neuropathy.
The latter presents at younger ages than ischaemic optic neuropathy without associated drusen7. In young patients (<50 years of age), drusen may be an independent risk factor for non-arteritic anterior ischaemic optic neuropathy8–10. Drusen may promote ischaemia by distorting blood vessels, increasing intraneural tissue pressure, and narrowing the optic disc space11. Dehydration promotes hypotension and may trigger ischaemic optic neuropathy in patients with drusen11.
Although no preventive or curative treatment is currently available for visual field loss caused by optic disc drusen, it is essential to establish a correct diagnosis of other causes of pseudopapilloedema, such as optic disc drusen, bearing in mind that both entities may co-present.
Conflicts of interest
None.
Please cite this article as: Saint-Gerons M, Rubio MA, Matheu A. Drusas de nervio óptico en el diagnóstico diferencial del edema de papila. Neurología. 2022;37:610–612.
Copyright © 2021. Sociedad Española de Neurología