Full Text
Dear Editor:
Headache with neurological deficits and cerebrospinal fluid (CSF) lymphocytosis (HaNDL) is a syndrome characterised by1 episodes of moderate or severe headache lasting a few hours,2 cerebrospinal fluid with lymphocytic pleocytosis and normal neuroimaging results,3 episodes of headache accompanied by transient neurological deficit, and4 episodes of headache and neurological deficit recurring less than 3 months apart.1 Although neuroimaging findings are usually normal,2 some exceptions have been reported. We present the clinical case of a patient who met all diagnostic criteria for HaNDL syndrome and exhibited previously undescribed radiology findings.
Our patient was a 30-year-old man with no personal or family history of migraine who visited our department due to somnolence, mixed aphasia, right homonymous hemianopsia, and sensorimotor deficits in the right limbs. He had visited our department in the previous weeks reporting episodes of holocranial headache, sensory alterations, phonophobia, and photophobia; these symptoms had led to a diagnosis of migraine with sensory aura. Upon arriving at our hospital, our patient underwent a cranial CT scan and a neurosonological study, which yielded normal results. A few hours later he presented fever. A lumbar puncture performed after ruling out other possible focal infections disclosed clear CSF with 50 leukocytes (98% mononuclear), glucose levels of 69.1mg/dL, and protein levels of 1.45g/L.
A few days later, he experienced 2 episodes of holocranial headache associated with sensory deficits of the left upper limb which lasted a few hours. An additional lumbar puncture revealed clear CSF with 92 leukocytes (97% mononuclear), glucose levels of 61.7mg/dL, and protein levels of 0.9g/L. After that, he remained asymptomatic.
A brain MRI performed during his hospital stay revealed isolated leptomeningeal uptake in the posterior fossa (Fig. 1). Results from a series of blood and CSF screenings (including microbiology and cytology tests, a blood culture, autoimmune tests, and tumour marker tests) were normal. A thoracic-abdominal CT scan revealed no abnormalities.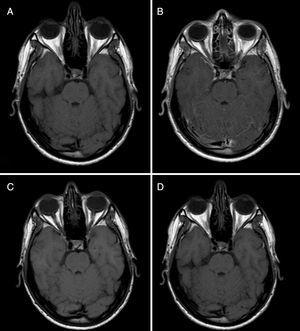 Figure 1.
Baseline and follow-up MRI scans (before and after gadolinium administration). The comparison between baseline MR images before (A) and after (B) gadolinium administration reveals slight leptomeningeal enhancement in the superior and vermis folia. Three-month follow-up MR images before (C) and after (D) gadolinium administration evidence resolution of leptomeningeal enhancement.
(0.17MB).
A follow-up MRI scan performed 3 months later showed that leptomeningeal enhancement had resolved (Fig. 1). To date, 2 years later, our patient has experienced no further episodes.
HaNDL syndrome has been associated with focal slowing in EEG and focal alterations in blood flow as shown by different techniques (Doppler, CT perfusion, perfusion MRI, SPECT). The literature reports isolated cases of brain MRI abnormalities, including alterations in diffusion-weighted sequences at the level of the corpus callosum,3 diffuse leptomeningeal enhancement,4 or grey matter alterations associated with CSF enhancement in the temporal and occipital regions.5 However, isolated leptomeningeal enhancement in the posterior fossa had never been described.
In our case, differential diagnosis included other diseases that may be accompanied by headache and leptomeningeal enhancement, including infectious diseases (bacterial, fungal, viral, or tuberculous meningitis), tumours (meningeal carcinomatosis, lymphoma), autoimmune diseases (neurosarcoidosis, anti-NMDA receptor encephalitis),6 vascular diseases (subarachnoid haemorrhage, vasculitis),7 drug-related complications (antibiotics or NSAIDs), and intracranial hypotension.
However, results from microbiology tests and PCR for herpes virus family were negative. Likewise, CSF cytology, tumour marker tests, and autoimmune tests (including antineuronal antibodies) yielded no abnormal results. The thoracic-abdominal CT scan revealed no tumours or pulmonary abnormalities. A brain MRI scan showed no signs of ischaemia or haemorrhage. Our patient denied excessive use of NSAIDs in the days preceding the episode. CSF opening pressure was normal. In conclusion, our patient's clinical progression and the normal results delivered by the aetiological study pointed to HaNDL syndrome associated with previously undescribed brain MRI alterations.
Conflicts of interest
The authors have no conflicts of interest to declare. This study has received no funding of any kind, has not been presented at any congress, nor has it been published in another journal.
Acknowledgements
The authors would like to thank the Spanish Society of Neurology's Research Operations Office for their support and Ms. Laurie von Melchner for her assistance with the English-language version of the manuscript.
Please cite this article as: García-Esperón C. Captación leptomeníngea focal, un nuevo hallazgo radiológico en la seudomigraña con pleocitosis. Neurología. 2017;32:63–65.
Copyright © 2014. Sociedad Española de Neurología