Article information
Abstract
Full Text
Bibliography
Download PDF
Statistics
Abstract
Objective
To evaluate the diagnostic potential of seven examinations in order to define the most suitable strategy for target organ damage (TOD) search in hypertensive patients.
Methods
This is a descriptive, cross-sectional study. 153 consecutive treated and essential hypertensive patients were enrolled. Patients with established cardiovascular or chronic renal disease (stage ≥4) were excluded. TOD search was assessed by: glomerular filtration rate (GFR), albumin/creatinine ratio (ACR), electrocardiogram (ECG), echocardiogram (ECO), ankle–brachial index (ABI), pulse wave velocity (PWV), and carotid ultrasound (intima media thickness and presence of plaques). The rationale of our strategy ought to determine the performance of applying a set of the most widely available tests (GFR, ACR, ABI, ECG) and advise about the optimal sequence of the remaining tests.
Results
The sample was 64.4±7.9 years old, 45.8% males. 82.6% of the sample had any TOD at all. The resulting algorithm found a 37% TOD in relation to GFR, ACR, ABI and ECG values. Adding carotid ultrasound added up to 70% of the studied population and properly classified (TOD+/TOD−) 89% of the cohort. When performing PWV, 78% of the patients had been identified as TOD+ and 96% of the population was correctly identified. Contribution of ECO was minor.
Conclusion
After running the more widely available explorations (GFR, ACR, ABI, ECG), a step-by-step strategy that included carotid ultrasound, PWV and ECO could be the best sequence for TOD search in asymptomatic hypertensive patients.
Keywords:
Ambulatory blood pressure/home blood pressure monitor
Hypertensive heart disease
Hypertension-vascular disease
Renal disease
Risk assessment
Resumen
Objetivo
Evaluar el rendimiento diagnóstico de un panel de siete pruebas de determinación de daño de órgano diana (DOD) aplicadas de forma sistemática, a fin de sugerir la estrategia óptima para la búsqueda de DOD en el hipertenso.
Método
Estudio descriptivo y transversal. Se incluyeron 153 pacientes diagnosticados de hipertensión esencial bajo tratamiento farmacológico. Se excluyeron pacientes con enfermedad cardiovascular establecida o enfermedad renal crónica estadio ≥4. Se realizó una búsqueda de DOD mediante filtrado glomerular estimado (FGe), índice albúmina creatinina (IAC), hipertrofia ventricular por electrocardiograma (ECG) y ecocardiograma (ECO), índice tobillo brazo (ITB), velocidad de la onda de pulso (VOP) y ecografía carotídea (placas y grosor íntima media). Se propuso una estrategia de búsqueda de DOD en la que tras la realización de las exploraciones más accesibles (FGe, IAC, ITB y ECG) se sugiere la secuencia de exploraciones a realizar con mayor eficacia diagnóstica.
Resultados
La edad media fue 64.4±7.9 años, siendo el 45.8% varones. El 82.6% presentó algún tipo de DOD. Según el algoritmo propuesto, las pruebas de mayor accesibilidad diagnosticaron un 37% de DOD en la muestra. Tras añadir la ecografía carotídea, se detectó DOD en el 70%, y el 89% de la población fue apropiadamente clasificada en DOD+/DOD−. La realización de VOP incrementó la prevalencia de DOD hasta el 78%, y el 96% de la muestra fue correctamente clasificada. La contribución de la ECO fue menor.
Conclusión
Tras la realización de las exploraciones más accesibles (FGe, IAC, ITB y ECG), la realización sistemática de ecografía carotídea, VOP y ECO podría ser la estrategia óptima para la búsqueda de DOD en el hipertenso.
Palabras clave:
Medición ambulatoria de la presión arterial
Cardiopatía hipertensiva
Arteriopatía hipertensiva
Nefropatía hipertensiva
Estratificación de riesgo
Article
These are the options to access the full texts of the publication Hipertensión y Riesgo Vascular
Subscribe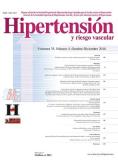 Subscribe to
Hipertensión y Riesgo Vascular
Contact
Telephone
From Monday to Friday from 9 a.m. to 6 p.m. (GMT + 1) except for the months of July and August which will be from 9 a.m. to 3 p.m.
Calls from Spain
902 88 87 40
Calls from outside Spain
+34 932 418 800
E-mail