Texto completo
Dear Editor:
Introduction
The FLAIR-hyperintense lesions in anti-MOG-associated encephalitis with seizures (FLAMES) was first described by Ogawa et al. in 2017,1 as a distinctive clinical-radiological syndrome from other anti-MOG antibody-associated demyelination syndromes, and often with a more indolent course.2 The most frequent clinical manifestations of this syndrome are seizures, headache, fever and focal cortical deficits congruent with the localization of unilateral cortical FLAIR hyperintense lesions but is not infrequent to find bi-hemispheric affectation.3
Etiology and risk factors to develop the syndrome are still unknown. Some cases have been associated with concomitant anti-NMDAR antibodies4,5 but the association of anti-MOG related disorders and other autoimmune disease seems rare. Recently a case of FLAMES in a patient with inflammatory bowel disease (ulcerative colitis) on TNF inhibitor therapy have been reported.6
In this context, we present the case of a woman with Crohn's disease in treatment with adalimumab that developed FLAMES with a favorable outcome despite anti-TNF maintenance.
Case report
A 36-year-old right-handed woman was transferred to our third level hospital with a clinical picture of right parietal headache, fluctuating right hemispherical symptoms and signs, and eventually a generalized tonic-clonic seizure. His medical history is remarkable for suffering CD associated with HLA-B27 positive spondyloarthropathy and hidradenitis suppurativa in treatment with adalimumab biweekly and doxycycline.
Symptoms began in the previous month as right facial pain attributed to mandibular joint inflammation in context of spondyloarthropathy but some days after, the pain presented in right parietal localization without remission. Three weeks after beginning of these symptoms, the patient is transferred by emergency services to her regional hospital because of sudden onset of intermittent involuntary movements of left hand with associated clumsiness and paresthesia during an hour and eventually dysarthria. Stroke is suspected, urgent CT scan showed subtle right parietal cortical gyri swelling and no vessel obstruction. During administration of intravenous alteplase the patient suffered abrupt clinical worsening in the form of left-side hemiplegia. A new CT scan did not show any hemorrhagic complications or other changes from the previous one. The patient in a few hours full-recovered spontaneously and only right parietal headache remained. In day five after admission MRI (Fig. 1) showed right hemisphere predominantly parietal cortical gyri and some sulci hyperintensity and swelling on FLAIR without the involvement of the adjacent juxta-cortical white matter, hypointensity in ADC and subtle hyperintensity on DWI suggesting diffusion restriction, subtle leptomeningeal gadolinium enhancement, vessels hyperintensity in susceptibility weight image compatible with hyperperfusion7 confirmed later by perfusion weighted MRI. During hospitalization the patient remained stable and without fever but on day seven suffered a generalized tonic-clonic seizure and was transferred to Intensive critical care treated with levetiracetam and without new alterations in urgent CT scan. Then the patient is transferred to our hospital. Upon arrival the neurological exam was un unremarkable and the patient only complained of right parietal headache. A lumbar puncture was performed suspecting encephalitis or vasculitis. Results revealed mild lymphocytic pleocytosis with 25cells/μL and all microbiological tests (including bacterial and fungal culture PCR por viruses including Herpes simplex and Varicella Zoster virus) were negative. Suspecting an autoimmune process including the possibility of FLAMES we solicited antibody testing for vasculitis and anti-myelin oligodendrocyte glycoprotein (MOG) in serum and decided to administer intravenous corticosteroids. We request a rheumatology and gastroenterology assessment of adalimumab withdrawal given the possibility of being related to the cerebral inflammatory process. Given the stability of the patient and not being able to attribute a clear causal relationship, it was agreed to maintain adalimumab. Autoimmunity testing for vasculitis including ANCA were negative. Electroencephalogram (EEG) showed right temporal slow waves. The patient was discharged asymptomatic with levetiracetam and oral prednisone in a descending regimen during four weeks and with anti-MOG antibodies results pending. Few weeks later positive anti-MOG in serum (Euroimmune® cell based-assay) were received confirming FLAMES diagnosis. Oligloclonal bands in mirror pattern were found. Slow waves in four weeks control EEG were less frequent compared with the previous and eventually normalized. In the control MRI five weeks from discharge there was significant improvement of FLAIR hyperintensity and swelling. The patient remained asymptomatic except for sporadic right parietal headache. A recent MRI performed four months after the presentation of focal neurological symptoms showed resolution of FLAIR hyperintensity and the rest of alterations.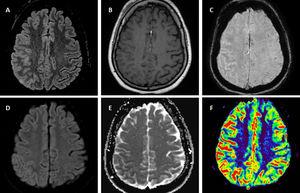 Figure 1.
Brain 1.5T MRI of FLAIR-hyperintense Lesion in Anti-MOG-associated Encephalitis with Seizures. T2-fluid attenuated inversion recovery (FLAIR) imaging showing right parietal cortical gyri and some sulci hyperintensity and swelling without involvement of adjacent juxta-cortical white matter (A). Axial T1-weighted post-gadolinium imaging shows right parietal leptomeningeal enhancement (B). Axial susceptibility weighted imaging shows hyperintense vessels in the same region due to decreased oxygen extraction secondary to hyperperfusion (C) confirmed by perfusion imaging sequences (F). Diffusion restriction in posterior parietal gyri (D,E).
(0,22MB).
Discussion
We have presented the case of a patient who suffered FLAMES under treatment with anti-TNF. Recent publications have suggested an association between FLAMES and anti-TNF therapy.6 In our case, however, there has been a complete recovery while maintaining adalimumab.
In the study published in 2020 by Kunchok et al.8 there was an association between the use of anti-TNF therapy in patients with autoimmune pathology and the appearance of inflammatory phenomena in central nervous system, both demyelinating and non-demyelinating, but the mechanism by which this association occurred could not be specified. Furthermore, there are several cases where patients with syndromes associated with anti-MOG in anti-TNF treatment are specifically reported, including patients with inflammatory bowel disease.9 However, it should be noted that a case has also been reported in which FLAMES developed after withdrawal of anti-TNF and azathioprine during pregnancy.10
Taking into account all the above, we agree that there should be a special surveillance of this syndrome (and other inflammatory events at the CNS level) in patients with inflammatory bowel disease receiving anti-TNF treatment, including in assessing the determination of anti-MOG before starting such a treatment. However, anti-TNFs are an effective drug in many immune-mediated diseases and withdrawing or maintaining this treatment will have to be weighed on a case-by-case and multidisciplinary basis. Prospective studies should be carried out with a large number of patients that confirm the association of anti-TNF with inflammatory events and which patients are at risk.
Funding
No acknowledgments nor funding for this paper.
Copyright © 2021. Sociedad Española de Neurología