Texto completo
Dear Editor:
One condition recently associated with coronavirus disease 2019 (COVID-19) is autoimmune encephalitis (AE). This disease presents deficits in cognition, memory, psychosis, abnormal movements, seizures, and coma.1 All previously reported cases were associated with antibodies against the N-methyl-d-aspartate receptor (anti-NMDAR).2
The presence of antibody co-expression in AE has rarely been reported. These cases were related to symptom overlapping and difficult-to-control seizures.3 To our knowledge, there are no reported cases of antibodies co-expression encephalitis after COVID-19.
We present a case of anti-NMDAR and anti-glutamic acid decarboxylase 65 (anti-GAD65) co-expression encephalitis in a post-COVID-19 patient.
The patient is a 28-year-old man with no history of chronic disease. Two weeks before presentation, he was diagnosed with mild COVID-19. During home isolation, he presented an altered mental state characterized by incoherent speech, somnolence, auditory hallucinations, suicidal ideation, and generalized tonic–clonic seizures. At the evaluation, he presented front-orbital syndrome characterized by catatonic symptoms; no neck stiffness or focal signs were found. The initial laboratory and cerebrospinal fluid (CSF) were normal; the FilmArray meningitis/encephalitis panel (BioFire Diagnostics, Salt Lake City, UT) was negative. However, the brain's magnetic resonance imaging (MRI) revealed hyperintensities in the bilateral anterior cingulate cortex and temporal lobes [Fig. 1A, B]. Electroencephalogram reported subcortical dysfunction in frontal, temporal, and occipital regions; due to suspected viral encephalitis, acyclovir and levetiracetam treatment were started. However, two days later, he presented status epilepticus requiring orotracheal intubation. Due to his bad evolution, further studies of the CSF were requested, SARS-CoV-2 PCR and anti-SARS-CoV-2 IgG (enzyme-linked immunosorbent assay) were negatives; immunoblotting revealed IgGs against neuronal proteins 150kDa and 75–50kDa (NMDAR and GAD65/67), dot-blotting was positive for NMDA, and GAD65 antigen and tissue-based assay with direct immunofluorescence revealed intracellular and cell-surface antigens [Fig. 1C, D]. All laboratory supplies were purchased from Santa Cruz Biotechnology, Inc. Malignancy, systemic autoimmune disease and infections were ruled out.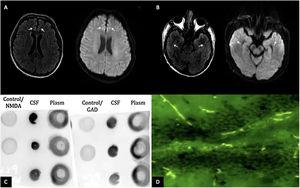 Figure 1.
(A) MRI of the brain in T2 FLAIR and diffusion-weighted imaging showing hyperintensities in the bilateral anterior cingulate cortex and (B) bilateral temporal lobes (white arrows). (C) Dot blot (1:1000 dilution); revealing positivity for the presence of GAD65 and NMDA antigens in the CSF. (D) Tissue-based assay in CSF with direct immunofluorescence showing intracellular and cell-surface antigens (GAD65, NMDA).
(0,11MB).
The patient was treated with methylprednisolone 1g/daily for five days with partial clinical response. Therefore, we started immunoglobulin at 0.4g/kg/day for five days with clinical improvement. One week later, he was extubated and discharged home. At six weeks-follow-up, he continues physical rehabilitation and presents neurological sequelae related to mood changes, irritability, and agitation episodes.
The clinical spectrum of autoimmune encephalitis (AE) varies from seizures, psychosis and dysesthesias as seen in the most common presentation (anti-NMDAR) to rare syndromes such as Stiff Person syndrome and limbic encephalitis; these last ones presented in anti-GAD65 encephalitis.1
As in our patient, an abnormal electroencephalogram is present in almost 90% of the cases, and T2 hyperintensities are the most common MRI findings.4
Recent information suggests that genetic susceptibility patients after SARS-CoV-2 infection can develop neurological damage due to antibodies against viral particles that can affect neurons due to molecular mimicry. Also, during mild–severe infection, lymphopenia could induce regulatory T cell depletion, triggering associated immune hyperactivation.5
Besides, there are different techniques to diagnose AE; immunoblotting is still a practice, low-cost sensitive way to detect the classic antibodies.4 In this case, it was possible to corroborate the presence of the antigens GAD65 and NMDA in the dot-blotting technique and the intracellular and cell-surface antigens in the tissue-based assay.
We hypothesized that an indirect mechanism could have stimulated the production of neuronal antibodies in this patient, where SARS-CoV-2 activated both cellular and humoral immunological that could have generated antibodies that mimicked NMDAR and GAD65 as a spectrum of the neuropathology in COVID-19.1,6
We suggest considering AE as a differential diagnosis in patients with similar presentations and making allowances of unusual antibodies as the cause of the encephalitis.
Funding
This research did not receive any specific grant from funding agencies in the public, commercial, or not-for-profit sectors.
Conflicts of interest
The authors declare no conflict of interest.
Acknowledgments
We thank the patient for providing consent to share his clinical history. Informed consent was obtained from the patient.
Copyright © 2021. Sociedad Española de Neurología