Texto completo
Non-Hodgkin lymphomas (NHL) represent a small percentage of all gastrointestinal tumors. The major risk factors for gastrointestinal NHL include immunosuppression and celiac disease (CD).1,2 Burkitt lymphoma (BL) is an infrequent aggressive variant of NHL that frequently affect the gastrointestinal tract. BL is common in young children in Africa who also have malaria and Epstein–Barr virus infections. The latter infection is associated with the majority of African cases. Outside of Africa, BL is infrequent and is especially related to human immunodeficiency virus (HIV) infection. Although CD is associated to NHL, no cases of BL have been reported in adult patients with celiac disease. We report a patient with long history of CD that developed intestinal BL.
A 52 year-old male with a 20-year history of CD with free-gluten diet compliance was admitted for 10kg weight loss, right lower quadrant discomfort, fever, diarrhea, and hypoesthesia in his left mandibular area over a period of 3 weeks. No significant findings were observed on physical examination. Laboratory data showed an erythrocyte sedimentation rate of 96mm/hour and lactate dehydrogenase (LDH) of 1011U/L (normal value: 236–460U/L). The complete blood count, renal function test, liver enzymes and CD antibodies were all within normal limits. The anti-HIV test was negative. Abdominal CT showed an irregular thickening of the terminal ileum that protruded to the cecum with multiple enlarged lymph nodes in the ileocecal region (Fig. 1a). During hospital stay, the patient developed right ptosis and ipsilateral IV cranial nerve palsy without other neurological symptoms. A head MRI and a cerebrospinal fluid sample were normal. Colonoscopy exam showed a 4-cm pseudopolipoid ileal lesion with friable surface that protruded through ileocecal valve, which was biopsied (Fig. 1b). Pathology exam of the mass showed a "starry sky" pattern composed of several reactive macrophages with phagocytosis of apoptotic tumor cells and diffuse proliferation of neoplastic cells with medium size nuclei that infiltrated the ileal chorion. Immunohistochemistry stains showed expression of CD20, homogenous expression of BCL6, and lack of expression of BCL2. Ki67/MIB1 staining was homogenously positive in almost all tumor cells. These findings were compatible with BL. Bone marrow biopsy also showed lymphoid neoplastic cells. Chemotherapy was administered with combination of cyclophosphamide, ifosfamide, etoposide, vincristine, doxorubicin, cytarabine, methotrexate, and rituximab. The patient had a complete response and resolution of the IV cranial nerve palsy. After 16 months of follow-up the patient remained disease-free.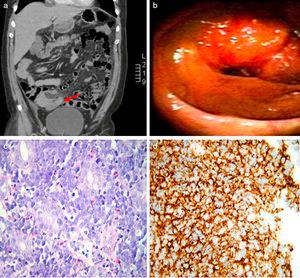 Figure 1.
Intestinal Burkitt lymphoma. (a) Axial Computed Tomography cut, with a regular parietal thickening of the terminal ileum that protrudes the cecal base through the valve. (b) Colonoscopy exam showed a 4cm pseudopolyploid ileal lesion that protruded through ileocecal valve. (c) H & E original magnification 400×. A diffuse proliferation of neoplastic cells is observed from medium to large size, among which macrophages can be found, resulting in "starry-sky" pattern characteristic of Burkitt lymphoma. (d) Positive staining for CD 20 in immunohistochemistry.
(0,47MB).
NHL represent 1–4% of the malignancies arising in the gastrointestinal tract, and stomach is the most common site of involvement. CD is associated with an increased risk either intestinal or extra-intestinal NHL.2,3 Different studies showed that patients with CD diagnosed after age 50 were more likely to develop NHL, suggesting that a prolonged period of continued gluten ingestion before CD diagnosis has a central role.4 Nevertheless a large case series detected NHL in only 0.4% and small-intestinal cancer in 0.08% of patients with CD.5 Furthermore, in other study only 16% of gastrointestinal NHL were B-cell NHL (mainly MALT lymphoma and diffuse large B cell lymphoma).6 The pathophysiologic mechanism related to the development of lymphoproliferative disorder in patients with CD is poorly understood. The loss of epithelial barrier function, migration of aberrant intestinal immune-cells, and dysfunctional immune surveillance may be involved.4 To the best of our knowledge, there is only one case report of intestinal BL in a pediatric patient with CD while the patient was strictly adhering to a gluten-free diet,7 and a single case of colonic Burkitt-like lymphoma in a 75 year-old male with a 2-year history of CD (1). BL is an aggressive subtype of B-cell NHL that represents 1–5% of all NHL in adults and a small percentage of gastrointestinal lymphomas.8 The median age for incidence of BL in adults is 55 years and the most frequent localization of sporadic BL is the abdomen (60–80%) and the most frequent symptoms include abdominal pain, weight loss, perforation, obstruction, fever, and high levels of LDH.1 Central nervous system involvement was described in 13% of adult patients with BL.9 Although infrequent, the presence of cranial neuropathy is associated with this malignancy.10
In conclusion, we report an unusual association of intestinal BL in an adult patient with a long history of CD well controlled. The presence of B-symptoms, diarrhea, weight loss and neurological manifestation were the manifestations of BL in this patient.
Author contributions
Saad EJ, Laborie MV and Balderramo D designed the report; Saad EJ, Seculini Patiño CE and Guanchiale L collected the patient's clinical data; Saad EJ and Balderramo D analyzed the data and wrote the paper.
Institutional review board statement: The study was reviewed and approved by the Research Department of the Hospital Privado Universitario de Córdoba, Argentina.
Copyright © 2017. Elsevier España, S.L.U.. All rights reserved