Texto completo
Case report
Generalized recessive dystrophic epidermolysis bullosa (RDEB) is characterized by multiple organ involvement and severe complications starting in the first years of life. RDEB has an estimated prevalence of 0.27 per 100,000.1
Esophageal webs or strictures can be found in about a third of the patients with the recessive dystrophic type of this disease. The esophageal involvement causes painful dysphagia followed by malnutrition and leads to deterioration of skin lesions in these patients.2 The initial and most effective treatment has been shown to be balloon dilation, which can be carried out under fluoroscopic or endoscopic guidance.2,3
We report a case of RDEB that was successfully treated with endoscopic balloon dilation.
A 40-year-old female with recessive dystrophic epidermolysis bullosa was admitted to the emergency department due to odynophagia, severe dysphagia and weight loss (>10% of body weight). She also presented worsening of cutaneous lesions despite treatment with oral steroids (40mg of prednisone daily). On physical examination multiple bullae, atrophic scars, milia, crusts and erosions were noted primarily on the distal extremities. Loss of entire nails and syndactyly of the right fourth and fifth toes were also noted. She had a body mass index of 17.5kg/m2.
The upper gastrointestinal endoscopy revealed a stricture at 20cm below the incisor due to a translucent membrane (Fig. 1). An endoscopic dilation with a 12mm through-the-scope balloon under fluoroscopic control was performed with deep sedation with propofol. The balloon was inflated with contrast material during 60seconds until the waist disappeared and then was deflated (Fig. 1). After dilation new blister formation and denude mucosa (Fig. 1) were observed as a result of minor trauma induced by the procedure. After rupture of the membrane we were able to pass the gastroscope through the stricture without need of more aggressive dilation. There were no major complications after the procedure and she was discharged with tolerance to liquid and solid food. After four weeks, as the patient were able to easily swallow solid food and rapidly improved her nutricional status we decided not to proceed to a sequential dilation program and keep her on a strict clinical follow up. One year after endoscopic therapy the patient remained asymptomatic, with a body mass index of 19.82kg/m2 without systemic therapy with steroids and no additional dilation sessions were necessary.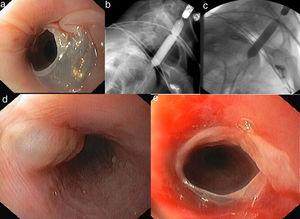 Figure 1.
Endoscopic findings disclose (a) esophageal stricture due to a translucent membrane at 20cm below the incisor. (b) The 12-mm-diameter balloon was placed at the stricture. (c) Inflation of the balloon until the disappearance of the waist. Endoscopic findings showing (d) esophageal blister and (e) denude mucosa after minor trauma induced by the procedure.
(0,22MB).
Esophageal strictures are the most common and serious complications in RDEB. Medical treatment does not have very promising results on its own and esophageal bougienage, fluoroscopic balloon dilatation and endoscopic balloon dilation are the most common methods of treatment.4 In recessive dystrophic epidermolysis bullosa, the stenosis result from bullous lesions and tend to relapse.
Recent studies have demonstrated that the balloon dilation technique is safer and effective in relieving dysphagia.2,5 There is no consensus in the literature regarding the frequency of dilations or the diameter that should be achieved. In most cases re-dilatation is performed if there is recurrence or partial relief.
The main advantage of endoscopic balloon dilation is to have the opportunity of direct visualization of the esophagus. Thus, have the chance to decide the caliber and the pressure of the balloon more sensitively and to identify the occurrence of a perforation or bleeding instantly.
Different adjuvant treatments have been proposed for cases of refractory or recurrent esophageal stricture, although there are no studies of their efficacy in the prevention of stricture relapse. The use of corticosteroids (either systemically or locally injected) as adjuvant treatment has been reported. However the data are conflicting and the use of intralesional triamcinolone acetonide injection does not seem to significantly improve the number of esophageal dilations or the dysphagia.5
In conclusion, balloon dilation of esophageal strictures resulting from RDEB is a safe procedure and seems to be an effective method of treatment. However, RDEB is a chronic condition and recurrence may be present in a great proportion of the cases after endoscopic dilation.4 In these cases, a reintervention may be repeated, as the balloon dilation is well tolerated by the patient and can be done frequently. Caution must be exercised during this procedure due to the likelihood of complications such as blister formation, bleeding, and perforation at the dilation site. Early recognition of dysphagia in a patient with RDEB can improve the quality of life of the patient.
We report a case of RDEB, a rare and challenging condition, that was successfully treated with one endoscopic balloon dilation. After endoscopic treatment, the patient presented a significant improvement of global health without any signs of recurrence at 12-months follow up.
Author contributions
Each author's contribution to the following criteria for authorship: 1 – conception and drafting of the article; 2 – critical revision of the article.
Funding
No funding.
Conflicts of interest
The authors declare no conflicts of interest.
Copyright © 2018. Elsevier España, S.L.U.. All rights reserved