Suplemento especial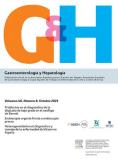 Este artículo forma parte de:
Vol. 45. Núm S1
Casos Clínicos en Gastroenterología y Hepatología
Más datos
Texto completo
Colonic granular cell tumors are a rare type of neoplasia that usually present as single tumors of mesenchymal origin and typically follow a benign course. Although initial clinical manifestation and endoscopic appearance are non-specific and therefore a correct diagnosis may be difficult to achieve, in most cases these tumors present typical histopathological and immunohistochemical features that allow a precise diagnosis.1
We report a case of a 70-year-old male, with previous medical history of hypertension and diabetes mellitus, performed a screening colonoscopy where multiple lesions were found, including an 8mm-diameter pedunculated polyp at sigmoid colon, two flat lesions measuring 10 and 20mm at the transverse colon, an 8mm-diameter sessile polyp at the ascending colon and a 3-mm sessile polyp at the cecum. All these lesions were excised and histopathological examination revealed histological changes consistent with tubular or tubulovillous adenoma with low-grade dysplasia in all of them. Additionally, at the smallest of these lesions, the 3-mm diameter polyp of the cecum (Fig. 1A), a proliferation of sheets of cells with coarse granular eosinophilic cytoplasm was found deeply located in the lamina propria and the submucosa underlying the adenomatous epithelium (Fig. 1B). There was no evidence of atypia, mitotic figures or necrosis. At immunohistochemistry, these cells stained positive for S100 (Fig. 1C) and negative for actin, desmin, c-Kit, EMA and ALK. They also presented cytoplasmic granules that stained positive for periodic acid Schiff (Fig. 1D) and periodic acid Schiff-diastase methods. These features were consistent with a diagnosis of granular cell tumor. The small cecal polyp was, therefore, a mixed polyp with components of both granular cell tumor and tubular adenoma. After 1 year, the patient remains asymptomatic and at follow-up colonoscopy no residual or recurrent lesions were found.
Figure 1.
(A) A sessile polyp with a diameter of approximately 3mm covered by normal mucosa was identified at the cecum and removed with cold snare. (B) Histopathological examination of the resected polyp revealed a proliferation of sheets of cells with coarse eosinophilic cytoplasm in the underlying lamina propria and submucosa (H&E, 400×). (C) Immunohistochemical staining was positive for S100 (200×). (D) The cells displayed cytoplasmic granules that stained positive with Periodic-acid Schiff (400×).
(0,51MB).
Granular cell tumors are a rare soft tissue neoplasia that arises from Schwann cells and are characterized by expression of protein S100. They may be detected anywhere through the body, most often in the oral cavity, skin, skeletal muscle and subcutaneous tissue. Granular cell tumors are relatively uncommon in the gastrointestinal tract, accounting for 5–11% of all granular cell tumors. When they occur in gastrointestinal tract, esophagus is the most common location, followed by colorectum and stomach.2 Colonic granular cell tumors tend to be asymptomatic and are usually found incidentally during screening colonoscopy or through examinations performed for non-specific gastrointestinal symptoms, where they usually present as small, solitary, well circumscribed tumors covered by normal mucosa. These tumors are generally benign and only 1–2% of cases were reported as malignant.1
Interestingly, previous series have described the presence of associated inflammatory or atrophic epithelial changes, but also crypt architectural distortion and nuclear hyperchromasia in 35–60% of cases. In some cases, this glandular distortion was confused with an adenomatous component.3 Nevertheless, we actually report a case where both granular cell tumor and a premalignant epithelial lesion were simultaneously present in a single colon polyp. Besides, both metachronous4 and synchronous5 colonic granular cell tumors have been reported in patients with adenocarcinoma of the colon. Taken together, these findings suggest that colon granular cell tumor may be associated with reactive epithelial changes. Our case represents a new example of how colon granular cell tumors can coexist with epithelial changes that can apparently include premalignant and malignant lesions.
This case also demonstrates that the importance of small polyps found during colonoscopy must not be underestimated. Although small polyps, like the polyp reported here, are usually regarded as having a high likelihood of corresponding to hyperplastic polyps with little or any clinical significance, their histological evaluation reveals surprises in a small percentage of cases. In fact, they may correspond to adenomatous polyps or even other less commons types of neoplasia like granular cell tumors. Therefore, resection of small polyps is recommended even when larger polyps are also found.
Copyright © 2021. Elsevier España, S.L.U.. All rights reserved