Article information
Abstract
Full Text
Bibliography
Download PDF
Statistics
Abstract
Imaging of cardiac sympathetic innervation is only possible by nuclear cardiology techniques and its assessment is key in the evaluation of and decision-making for patients with cardiac sympathetic impairment. This review includes the basis of cardiac sympathetic scintigraphy with 123I-meta-iodobenzylguanidine (123I-MIBG), recommended protocols, patient preparation, image acquisition and quantification, reproducibility, dosimetry, etc., and also the clinical indications for cardiac patients, mainly with regard to heart failure, arrhythmia, coronary artery disease, cardiotoxicity, including its contribution to establishing the indication for and monitoring the response to implantable cardiac devices, pharmacological treatment, heart transplantation and other.
Keywords:
Cardiac sympathetic innervation
Cardiac scintigraphy
Nuclear cardiology
Heart failure
Arrhythmia
Resumen
La obtención de imágenes de la inervación simpática cardiaca solo es posible mediante técnicas de cardiología nuclear, y su valoración es de importancia decisiva en la evaluación y en la toma de decisiones en pacientes en los que exista deterioro de inervación simpática. Se revisa el fundamento de la gammagrafía de inervación simpática cardiaca con 123I-metayodobencilguanidina (123I-MIBG), los protocolos recomendados para su realización, incluyendo preparación del paciente, técnicas de obtención y cuantificación de imágenes, reproducibilidad, consideraciones dosimétricas, etc., analizando las indicaciones clínicas de esta exploración en pacientes cardiológicos, principalmente en insuficiencia cardiaca, arritmias, coronariopatía, cardiotoxicidad, contribución a la indicación y seguimiento de respuesta a dispositivos de estimulación cardiaca, tratamiento farmacológico, trasplante cardiaco y otros.
Palabras clave:
Inervación simpática cardiaca
Gammagrafía cardiaca
Cardiología nuclear
Insuficiencia cardiaca
Arritmia
Article
These are the options to access the full texts of the publication Revista Española de Medicina Nuclear e Imagen Molecular (English Edition)
Subscribe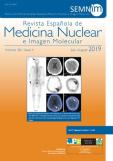 Subscribe to
Revista Española de Medicina Nuclear e Imagen Molecular (English Edition)
Contact
Phone for subscriptions and reporting of errors
From Monday to Friday from 9 a.m. to 6 p.m. (GMT + 1) except for the months of July and August which will be from 9 a.m. to 3 p.m.
Calls from Spain
932 415 960
Calls from outside Spain
+34 932 415 960
E-mail