Full Text
Superficial siderosis of the central nervous system consists of deposits of haemosiderin in the meninges, spinal cord, and cranial nerves due to repeated or chronic bleeding in the subarachnoid space. The characteristic clinical triad includes sensorineural deafness, cerebellar ataxia, and myelopathy.1,2 Superficial siderosis may be secondary to trauma, haemorrhagic tumours, vascular malformations, aneurysms, or meningovascular amyloidosis.3 To date, no cases related to metastatic melanoma have been published. We present the case of a patient with superficial siderosis and metastatic intraventricular melanoma.
A 71-year-old man was admitted to the hospital after experiencing progressive headache and gait instability over the preceding 2 months. The headache was oppressive, predominantly frontal, exacerbated by postural changes and the Valsalva manoeuvre, and it did not respond to a level one analgesic. He also mentioned hearing loss in the right ear in the preceding year. Nineteen years previously he had undergone wide resection of a localised melanoma in the dorsal region. In addition, he had a history of arterial hypertension, diabetes mellitus type 2, dyslipidaemia, smoking, and left-sided hypoacusis since childhood.
Physical examination revealed enlarged lymph nodes in the left lateral cervical and right retroauricular regions; both were hard in consistency, adherent to deep tissues, and not painful. Examination of the skin revealed no signs of malignancy. Neurological examination revealed peripheral facial paralysis on the right side, right-sided sensorineural hypoacusis with deafness on the left side, and unsteady gait with a negative Romberg test.
Routine blood and urine tests revealed no significant findings except for LDH levels of 607U/L and GGT of 170U/L. Immunological test results were within normal limits. The urinalysis and chest radiograph showed no noteworthy findings. A cranial CT showed a high attenuation nodular lesion 8mm in diameter in the anterior horn of the right lateral ventricle, with homogeneous iodine uptake. In a magnetic resonance (MR) imaging study the lesion appeared isointense on T1-weighted images and slightly hyperintense on T2, with a hypointense area corresponding to bleeding visible on the gradient echo sequence. After intravenous administration of gadolinium, the lesion displayed intense and homogeneous enhancement. In addition, the gradient echo sequence showed markedly hypointense lines on the pial surface of multiple gyri and sulci in both cerebral hemispheres, and, to a lesser extent, the surface of the brainstem and both cerebellar hemispheres. This finding is compatible with superficial siderosis due to recurrent bleeding in the subarachnoid space (Fig. 1). A cerebral angiography study did not find any active bleeds. Via lumbar puncture, we extracted cerebrospinal fluid with a xanthochromic appearance and containing 26800 red blood cells/μL, 20leucocytes/μL, and 97mg/dL of protein. The cytological study detected no malignant cells.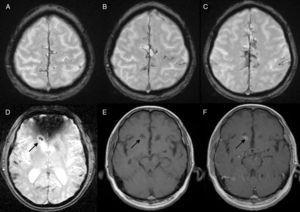 Figure 1.
(A–C) Axial slices from a T2-weighted gradient echo MR image sequence show characteristic multiple hypointense lines on the surface of both cerebral hemispheres. (D) Axial slice from the same sequence showing a nodular lesion in the right anterior horn; the hypointense area corresponds to a haemorrhagic focus. (E) Axial slice from T1-weighted MR image showing an intraventricular lesion with an isointense appearance. (F) Axial slice from a T1-weighted MR image after intravenous administration of gadolinium, showing homogeneous enhancement of the intraventricular lesion.
(0.23MB).
The patient underwent positron emission tomography-computed tomography (PET-CT) with fludeoxyglucose (18F) due to suspicion of metastasis. The images show radiotracer uptake suggestive of malignancy in the intraventricular lesion described, as well as in multiple enlarged lymph nodes (lateral cervical, supraclavicular, left paratracheal, bilateral axillary, and precoccygeal), muscle insertions, and in subcutaneous tissue. An ultrasound-guided fine needle aspiration biopsy was performed on the enlarged left lateral cervical node. Cytological study of the material removed revealed neoplastic cells with Melan-A expression. A biopsy of the lymph node in the right temporal region confirmed the presence of lymph node metastatic melanoma. With the diagnosis of stage 4 melanoma, the patient began dacarbazine chemotherapy.
After 3 months the patient experienced sudden exacerbation of headaches associated with confusional symptoms and more marked gait instability. A new cerebral CT showed growth of the intraventricular lesion, with subarachnoid haemorrhage and hydrocephalus. In the following days the patient's neurological condition deteriorated and he died after an episode of pulmonary aspiration.
We present a case of superficial siderosis caused by cerebral metastatic melanoma, a tumour type particularly likely to cause bleeding during metastasis.4 Although some articles link superficial siderosis to melanocytomas of the central nervous system,5,6 we have not found any descriptions of superficial siderosis secondary to metastatic melanoma. Superficial siderosis is an infrequent finding in normal clinical practice, but it is important to include it in the differential diagnosis of symptoms of cerebellar ataxia and progressive hypoacusis. MR imaging is the diagnostic test of choice; if superficial siderosis is confirmed, we must then search for a source of bleeding.7,8 It is especially important to consider metastatic origin in patients with a history of cancer.
Conflicts of interest
The authors have no conflicts of interest to declare.
Please cite this article as: Nogales Romo MT, Cuadrado ML, Matamoros P, Porta-Etessam J. Meningosiderosis como forma de presentación de un melanoma en estadio IV. Neurología. 2016;31:132–134.
Copyright © 2014. Sociedad Española de Neurología