Article information
Abstract
Full Text
Bibliography
Download PDF
Statistics
Tables (4)
Table 1. Demographic characteristics of the study cohort and comparative study carried out with survivors.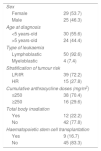 Abstract
Background
Survival of childhood acute lymphoblastic leukaemia involves an increasing risk of long-term morbidities. Due to the impact of cancer treatment and comorbidities, AL survivors may experience a decrease in their health-related quality of life.
Objective
We aimed to describe the long-term comorbidities, related quality of life and their development predictors in these survivors.
Methods
Cross-sectional study of 54 survivors aged ≥18 and who have a survival rate of more than 10 years. Quality of life was assessed by personal interview using SF-36 questionnaire.
Results
53.7% of AL survivors developed more than one comorbidity (24.7% hypothyroidism; 20.3% obesity; 14.8% metabolic syndrome; 18.5% subclinical cardiac dysfunction); 20.3% of them were severe. 73.3% of high-risk leukaemias and 66.6% of patients treated with radiotherapy or stem cells transplantation reported long-term comorbidity, p<0.05. Global quality of live score was: 86.3 (14) (classified as very good). Patients with high-risk acute leukaemia (83.2 vs. 89.5), severe long-term comorbidities (80.4 vs. 89.7) and females (81.8 vs. 89.9), reported worse quality of life, p<0.05. Physical summary score was worse in: obese (80 vs. 92) and hypothyroid (84.9 vs. 92.4) and radiotherapy-treated survivors (82.3 vs. 87.5); mental summary was worse in survivors with hypogonadism (68.2 vs. 86.3) and trasplanted patients (77.2 vs. 83.1), p<0.05.
Conclusions
Acute leukaemia survivors reported an increase prevalence of chronic comorbidities, related to cancer-treatment. Despite a decrease in scores for certain physical or mental items, global quality of life was very good in all acute leukaemia survivors, even better than compared with the general population.
Keywords:
Acute childhood leukaemia
Childhood cancer survivors
Chronic health conditions
Treatment
Quality of life
Resumen
Introducción
El aumento en la supervivencia de la leucemia aguda (LA) infantil conlleva un incremento de morbilidades a largo plazo que acompañado del impacto ocasionado por el tratamiento puede alterar la calidad de vida (CV).
Objetivo
Evaluar la prevalencia de comorbilidades crónicas, CV y predictores de su desarrollo en supervivientes de LA.
Métodos
Estudio transversal de una cohorte de 54 individuos con más de 10 años de supervivencia tras diagnóstico de LA. Se evaluaron la presencia de comorbilidades y la CV global, física y mental mediante cuestionario SF-36.
Resultados
El 53,7% presentó ≥ 1 comorbilidad crónica (24,7% hipotiroidismo; 20,3% obesidad; 14,8% síndrome metabólico; 18,5% disfunción cardiaca subclínica). El 20,3% de ellas fueron comorbilidades graves. El 73,3% de LA alto riesgo y el 66,6% de los tratados con radioterapia o trasplante presentaron comorbilidad tardía, p<0,05. La puntuación media de CV global fue 86,3 (14) (muy buena). Reportaron peor CV global los pacientes con LA de alto riesgo (83,2 vs. 89,5), comorbilidades graves (80,4 vs. 88,7) y del sexo femenino (81,8 vs. 89,9), p <0,05. Los pacientes obesos (80 vs. 92), hipotiroideos (84,9 vs. 92,4) y tratados con RT (82,3 vs. 87,5) tuvieron peor CV física (p <0,05) y aquellos con hipogonadismo (68,2 vs. 83,6) y tratados con TPH (77,2 vs. 83,1) menos puntuación en CV mental, p <0,05.
Conclusiones
Los supervivientes de LA presentan una alta prevalencia de comorbilidades crónicas, asociadas al tratamiento recibido. A pesar de que estas influyen en alguna de las subescalas de su CV, la percepción global fue muy buena, incluso superior a la media de la población general.
Palabras clave:
Leucemia aguda infantil
Supervivientes cáncer infantil
Comorbilidades crónicas
Tratamiento
Calidad de vida
Article
These are the options to access the full texts of the publication Medicina Clínica (English Edition)