Article information
Abstract
Full Text
Bibliography
Download PDF
Statistics
Abstract
Chagas disease is a zoonosis caused by protozoan parasite Trypanosoma cruzi, which is most frequently associated with a vectorial transmission. However, in recent years we have observed a significant increase in the oral transmission of the disease, associated mainly with the consumption of drinks made from fruit or other vegetables contaminated with triatomine faeces or secretions from infected mammals. After a latency period of 3–22 days after ingestion, the oral infection is characterized by more severe manifestations than those associated with vectorial transmission: prolonged fever, acute myocarditis with heart failure and, in some cases, meningoencephalitis. Mortality can reach up to 33% of those infected. The aim of this paper is to review this matter and to promote prevention practices.
Keywords:
Chagas disease
Oral transmission
Disease outbreaks
Epidemiology
Resumen
La enfermedad de Chagas es una zoonosis causada por el parásito protozoario Trypanosoma cruzi, transmitido con mayor frecuencia por vía vectorial. En los últimos años, sin embargo, se está observando un aumento marcado de la transmisión de la enfermedad por vía oral, asociada al consumo de bebidas preparadas a base de frutas u otros vegetales contaminados con las heces de triatominos o secreciones de mamíferos infectados. Después de un período de latencia de 3-22 días, a partir de la ingestión, la infección oral se caracteriza por manifestaciones más graves que la vectorial: fiebre prolongada, miocarditis aguda con insuficiencia cardíaca y en algunos casos meningoencefalitis. La mortalidad puede llegar hasta un 33% de los infectados. El objetivo de este trabajo es realizar una revisión del fenómeno y promover prácticas de prevención.
Palabras clave:
Enfermedad de Chagas
Transmisión oral
Brotes
Epidemiología
Article
These are the options to access the full texts of the publication Medicina Clínica (English Edition)
Subscribe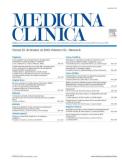 Subscribe to
Medicina Clínica (English Edition)
Contact
Phone for subscriptions and reporting of errors
From Monday to Friday from 9 a.m. to 6 p.m. (GMT + 1) except for the months of July and August which will be from 9 a.m. to 3 p.m.
Calls from Spain
932 415 960
Calls from outside Spain
+34 932 415 960
E-mail