Article information
Abstract
Full Text
Bibliography
Download PDF
Statistics
Abstract
Clinical case
The case is presented of 37-year-old male with a history of nasal obstruction with right rhinorrhea, headache, hearing loss and right exophthalmos of 4 months progression. The MRI revealed that the ethmoidal and maxillary sinuses contained inflammatory tissue extending into the orbital region. The biopsy confirmed a non-Hodgkin lymphoma of natural killer (NK) T cells.
Discussion
Non-Hodgkin's T NK lymphoma is a rare tumour in the orbital area that requires an early detection and multi-disciplinary care to ensure appropriate monitoring and treatment.
Keywords:
Lymphoma
T-Cell/pathology
Eye neoplasms/diagnosis
Eye neoplasms/therapy
Exophtalmos
Natural killer T-cells/pathology
Resumen
Caso clínico
Un varón de 37 años se presenta por una historia de obstrucción nasal con rinorrea derecha, cefalea, hipoacusia y exoftalmos derecho de 4 meses de evolución. La RM revela la ocupación de senos etmoidales y maxilares por tejido inflamatorio con extensión hacia la región orbitaria. La biopsia confirma un linfoma no Hodgkin de células T natural killer (NK).
Discusión
El linfoma no Hodgkin T NK es un tumour infrecuente en el área orbitaria que precisa de una precoz detección así como de una atención multidisciplinaria para asegurar un seguimiento y tratamiento adecuados.
Palabras clave:
Linfoma
Células T/patología
Neoplasias oculares/diagnóstico
Neoplasias oculares/terapia
Exoftalmos
Células T natural killer/patología
Article
These are the options to access the full texts of the publication Archivos de la Sociedad Española de Oftalmología (English Edition)
Subscribe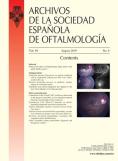 Subscribe to
Archivos de la Sociedad Española de Oftalmología (English Edition)
Contact
Phone for subscriptions and reporting of errors
From Monday to Friday from 9 a.m. to 6 p.m. (GMT + 1) except for the months of July and August which will be from 9 a.m. to 3 p.m.
Calls from Spain
932 415 960
Calls from outside Spain
+34 932 415 960
E-mail