Texto completo
Q fever is caused by Coxiella burnetii, an intracellular Gram-negative bacterium that produces prolonged bacteriemia and represents great risk of persistent infections for patients with valve pathology or vascular defects.1 This infection may have serious consequences in renal transplant recipients, especially if cardiovascular abnormalities are present.2 We present the case of a renal transplant recipient with weight loss and malaise.
A 65-year-old patient, with a kidney transplant from 2011 with baseline serum creatinine around 1.15mg/dl. He was receiving tacrolimus (levels around 5–7ng/ml) and mycophenolic acid (180mg/d) as immunosupressive therapy. He also had an endo-vascular prosthesis for an abdominal aortic aneurysm from 2006 and referred several trips to Africa in the past 20 years. He was also the owner of a scrap dealing company in rural area of Castilla-La Mancha (Spain).
Since June 2018, he endorsed gradual onset of non-specific symptoms (malaise, persistent low grade fever and weakness), and a 10kg weight loss in one year. The patient consulted on August 2019: laboratory examinations of previous 3 months revealed increased value of liver enzymes and C reactive protein (CRP). Multiple blood cultures were negative for bacteria and fungi. A fluorine 18-fluorodeoxyglucose positron emission tomography/computed tomography (18F-FDG PET/CT) was performed, showing aorto-iliac endovascular stent graft with heterogeneous content in aneurismatic sack and striation of the peri-aortic fat tissue, suggestive of peri-graft infectious process.
IgG anti-phase I and phase II antibodies for C. burnetii were reactive at titers of 1:8192 and 1:16,384 respectively, with later detection of Coxiella burnetii DNA in blood sample by polymerase chain reaction (PCR).
Diagnosis of chronic Q fever was confirmed and the patient began treatment with doxycycline 200mg/d and hydrochloroquine (400mg/24h because of gastrointestinal symptoms). No surgical intervention was performed due to high risk of aneurism rupture and compromise of vascularization of kidney allograft. After a three-month follow up period, patient was asymptomatic, had gained weight and in the last serological tests, IgG anti-phase I and phase II antibodies titers were 1:2048 and 1:8192 respectively. A follow up PET/TC performed three months after initiation of antibiotic therapy, showed an evident decrease in metabolic activity in the aneurismatic aortic sack (Fig. 1). Unfortunately, three months later the patient passed away due to an aggressive intrahepatic cholangiocarcinoma, precluding us from providing long-term follow up information about the infection.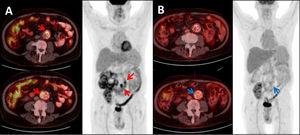 Fig. 1.
18F-FDG PET/CT showing: (A) Maximum intensity projection (MIP) and Axial-fused PET/CT images: two foci of high intensity FDG uptake in the aortic graft (SUVmax 17.79 and 9.46 respectively), consistent with infection of the graft (red arrows). (B) Same patient and same projections showing: significant decrease in FDG uptake after treatment (SUVmax 3.70 and 2.78 respectively) (blue arrows).
(0,15MB).
Chronic Q fever is associated with high morbidity and mortality if left untreated and is more common in elderly subjects and those who are immunosuppressed.3 Diagnosis of Q fever relies on serology and IFA (indirect immunofluorescence assay). In acute infection, the phase II antibody response appears first and is higher than the phase I antibody response. An IgG antibody titer of ≥1:800 to phase I antigens suggests chronic infection.4,5
Usually the infection is treated for 18–24 months and first line treatment include doxycycline and hydrochloroquine or quinolones. Monitoring should be based on clinical, serological and imaging criteria (PET/TC). Surgical intervention is recommended and always should be associated with antibiotic therapy when vascular infection is confirmed.6,7
Series of cases of C. burnetii infections on vascular grafts emphasize in the elevated mortality of C. burnetii vascular infections and recommend surgical intervention shortly after diagnosis.8,9
Few cases of Q fever in patients with renal transplant have been reported.10 In our case the patient bared an abdominal vascular graft stent, with radiologic signs of peri-prosthetic infection. Although surgery in these cases always should be proposed, medical therapy should be considered in a select group of patients in which surgery cannot be performed. In our case the patient presented an extremely high risk of kidney allograft loss and death during surgery, therefore, after careful evaluation by a multi-disciplinary team (nephrologists, infectious diseases specialists and vascular surgeons), surgery was discarded and prolonged antibiotic therapy was recommended.
Finally, the patient died of a liver tumor without finding a robust association between the tumor and the predisposition to this type of infrequent infection.
We present a case of chronic Coxiella burnetii infection in a kidney transplant patient with endovascular infection. C. burnetii infection should be suspected in patients with immunosuppressive therapy and long-data constitutional syndrome, especially if they carry a vascular graft; also medical therapy should be considered in patients where surgery cannot be executed.
Copyright © 2020. Elsevier España, S.L.U. and Sociedad Española de Enfermedades Infecciosas y Microbiología Clínica