Texto completo
Clinical case 1
A 51-year old man presented to our clinic with severe frontal headache, left proptosis and diplopia. He had undergone endoscopic sinus surgery 15 years ago and had been doing well.
The physical exam showed mild left proptosis with limited left upward and extreme lateral gaze. Nasal endoscopy showed a soft mass filling the left ethmoid area. Sinus CT scan showed a homogenous density filling the left ethmoid sinuses with bone expansion and erosion of the lamina papyracea. MRI showed a hypersignal on T1 and T2 in the left ethmoid sinuses with extension into the orbit (Fig. 1).
The patient underwent revision right endoscopic sinus surgery with complete removal of the left ethmoid lesion wall under navigation. The lesion was noted to be cystic and filled with motor oil-like yellow fluid. It had eroded completely the lamina papyracea but the periorbita was intact. There was also partial erosion of the fovea ethmoidalis without any cerebrospinal fluid (CSF) leak. Histological examination confirmed the diagnosis of cholesterol granuloma (CG). A sinus CT scan done after 6 months showed no evidence of recurrence.
Clinical case 2
A 65-year old male presented with intermittent right submandibular swelling. The CT scan showed an incidental homogenous expansile density in the left posterior ethmoid which eroded the cribriform plate. On MRI the lesion had a hyper signal on T1 and intermediate signal on T2, eroded the fovea on the left and lifted the left frontal lobe upward (Fig. 2). The patient was surprisingly asymptomatic and nasal endoscopy was benign. He underwent endoscopic sinus surgery with marsupialization of the left ethmoidal mass under navigation guidance. The mass was noted to be cystic and filled with oil-like thick material. There was erosion of part of the lamina papyracea postero-superiorly, but more significantly, the fovea ethmoidalis had a large defect with clearly pulsating dura, but no CSF leak. Histological examination confirmed the diagnosis of CG. At 3 months follow-up there was no evidence of recurrence or CSF leak.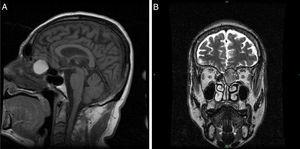 Figure 2.
Case 2: (A) Sagital sinus T1 MRI showing left ethmoid hypersignal mass bulging into the anterior skull base. (B) Coronal sinus T2 MRI showing left ethmoid intermediate signal mass bulging into the medial orbital wall and anterior skull base. CSF, cerebrospinal fluid; CG, cholesterol granuloma.
(0,16MB).
Discussion
CG of the paranasal sinuses is a rare entity usually involving the maxillary and frontal sinuses.1 There are only 4 cases of isolated ethmoid CG reported in the literature2–5 and we hereby report two additional cases. The pathogenesis of CG is not well understood, but the most accepted hypothesis suggests that the source of the cholesterol clefts is related to breakdown of erythrocytes membranes following bleeding. Bleeding itself may be related to head trauma or local surgery.6 A systematic review of the literature reported a head trauma incidence of only 14% and prior sinus surgery of 11%.7 Other theories include microhemorrhages in the sinus mucosa due to severe inflammation, outflow obstruction with mucociliary dysfunction1 or blocked ventilation.6
The clinical diagnosis of paranasal sinus CG may be challenging. The presenting symptom in ethmoid CGs is often not specific and could include proptosis,2 headache3 and nasal obstruction.4 Our first patient presented with acute headache, proptosis and diplopia. The second one was asymptomatic. Endoscopic exam may be benign or show nonspecific mass or even polyps. Clear golden yellow rhinorrhea which may happen in case of spontaneous drainage of the cyst is a rare symptom that offers a reliable clinical hint.8
Imaging is an important diagnostic tool for CG. Sinus CT scan typically reveals sinus density with frequent bone expansion and erosion.3 The incidence of bone erosion is 80% as reported by Durgam et al.7 The differential diagnosis based on CT scan imaging includes mucocele, cyst, meningocele and myelomeningocele.3 MRI typically shows an expansile well-marginated lesion with a characteristic hypersignal on both T1 and T2 except on the margins of the cyst which does not enhance.6 These imaging findings should raise the suspicion of CG as the first diagnostic possibility.
Histologic examination shows characteristic cholesterol clefts with surrounding foreign-body giant cells, fibrous granulation tissue and macrophages filled with hemosiderin.5
The treatment of paranasal sinus CG consists of surgical resection. Endoscopic surgery has replaced more traditional external approaches with comparable success.7 In our first case we could completely resect the CG endoscopically without evidence of recurrence. In the second case, a wide endoscopic marsupialization was done to avoid any dural tear.
In conclusion, we present two rare cases of isolated ethmoid CGs with different clinical manifestations. MRI following CT was essential in establishing the diagnosis and planning surgical removal.
Funding
No financial disclosures.
Conflict of interest
No conflict of interest.
Copyright © 2016. Elsevier España, S.L.U. and Sociedad Española de Otorrinolaringología y Cirugía de Cabeza y Cuello