Full Text
Dear Editor:
We have read with great interest the recently published study by Ramírez-Moreno et al. reporting an increase in the number of in-hospital consultations (IHC) to the on-call neurologist between 2005 and 2009.1 This is an innovative study as there are no articles in the literature analysing IHC activity in Spain over time. One of the most striking findings is the increasing demand for IHCs by the emergency department from 2005 to 2009; in fact, this department was the one that had recorded the most consultations with the neurology department by the end of the study period.
Some might argue that the study by Ramírez-Moreno et al. lacks external validity since it was conducted in only one hospital. However, we can provide data from the opposite standpoint (an emergency department) that confirm their findings. The emergency department at Hospital Universitario Donostia has kept an electronic database of all IHCs since April 2004. We analysed IHCs with the on-call neurologist by month for 88 consecutive months ending at February 2013, and found a continuous and statistically significant increase over that period (Figure 1). Both at the beginning (2006) and at the end (2012) of the study period, assessment of focal neurological signs was the leading cause of IHCs, and this cause has also undergone a statistically significant increase in its relative weight. We feel that this increase is the result of implementing 'code stroke' in the past decade: specialists from emergency medical services2,3 and emergency departments4 have been key players in this initiative. Later therapeutic improvements and adaptations of this process have highlighted the importance of neurologists in emergency services,5,6 which are usually saturated: in these services, managing conditions requiring rapid intervention is a top priority.7 From the perspective of emergency services, close and fluid cooperation with other professionals is essential and results in higher quality and safer care.8,9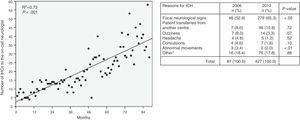 Figure 1.
Monthly changes in the number of emergency department IHCs with the on-call neurologist (to the left: linear regression analysis; month 1 corresponds to May 2004, and month 88 corresponds to February 2013). Comparison of reasons for consultation between the first (2006) and last (2012) complete years of the study period (to the right: chi-square test).
(0.22MB).
The results reported by Ramírez-Moreno et al., and our own, are a reflection of the changes taking place in the relationships and needs of different professionals involved in diagnosing and treating a condition. Stroke is one of the best examples. The role of neurologists in emergency services, which was more limited a decade ago, is now especially relevant and gives very satisfactory results. Any study addressing the connections between medical professionals and the factors that contribute to those connections, such as this one by Ramírez-Moreno et al., is therefore a necessary and welcome addition.
Please cite this article as: Busca P, Miró O. Acerca de las interconsultas a los neurólogos formuladas desde urgencias. Neurología. 2015;30:319–320.
Copyright © 2013. Sociedad Española de Neurología