Full Text
Aneurysms in the posterior cerebral artery (PCA) are infrequent: their incidence in clinical practice is estimated at 1% to 1.2% of all intracranial aneurysms.1,2 Although aneurysms may present in any of the 4 segments of the PCA,3 they are very rarely seen in P4.4 Clinical symptoms vary, with subarachnoid haemorrhage (SAH) and oculomotor palsy being the most common manifestations.2 In many cases, presence of these symptoms leads to clinical suspicion of aneurysm in the PCA; diagnosis is usually reached during the acute phase of aneurysm rupture. We describe the atypical presentation of an aneurysm in the P4 segment of the PCA in a young woman.
Our patient was a 40-year-old woman with no relevant medical history who visited the emergency department due to a 24-hour history of headache, instability, vomiting, and blurred vision. The examination revealed right homonymous hemianopsia; no other neurological deficits were found. Brain MRI and MR angiography revealed the presence of an intraparenchymal haematoma in the left parieto-occipital region, with no other relevant findings (Fig. 1A and B). Given that this is an unusual location for a haematoma in young patients, we performed an angiography study to rule out the presence of an underlying vascular condition. The study, which was conducted 14 days after symptom onset, revealed a saccular aneurysm measuring 3mm in diameter in the distal P4 segment (calcarine artery) of the left PCA (Fig. 1C). Despite this being an atypical location for an aneurysm, the patient's afebrile status during hospitalisation, and lack of heart murmur or any embolic phenomena, ruled out endocarditis. The patient underwent endovascular treatment under general anaesthesia in the department of neurointerventional radiology. The aneurysm was accessed through the femoral artery and a guide catheter was placed in the left vertebral artery. Total occlusion of the aneurysm was achieved by endovascular coiling. A follow-up angiography study performed after embolisation revealed that the parent artery was patent and confirmed complete occlusion of the aneurysm (Fig. 1D). The postoperative period was uneventful and the patient was discharged 4 days after the procedure; however, hemianopsia persisted. In a follow-up assessment 3 months after embolisation, right visual field deficits persisted despite some improvement; the patient had experienced no complications secondary to treatment.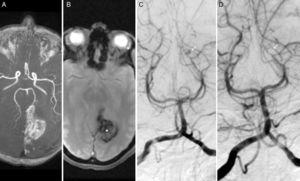 Figure 1.
Brain MRI. (A) Intracranial arteries in 3D sequences. (B) Axial T2* sequence showing an intraparenchymal haematoma in the left parieto-occipital region (T2* in A and B). Digital subtraction angiography: (C and D) Anteroposterior view showing a saccular aneurysm measuring 3mm in the P4 segment of the left PCA (calcarine artery), before (white arrow in C) and after coiling (white arrow in D).
(0.2MB).
Distal aneurysms are rare, accounting for approximately 5% of all aneurysms of the PCA.5 The therapeutic approach for distal aneurysms is complex and differs from that for proximal aneurysms.5,6 Treatment for distal aneurysms attempts to selectively occlude the aneurysmal sac7; although the procedure may be performed with either endovascular or surgical techniques, surgery for distal aneurysms results in a greater risk of neurological complications due to the connection of the affected area with the brainstem and cranial nerves. Endovascular treatment may be a viable and effective therapeutic alternative for treating intracranial aneurysms at distal locations.5 Distally located aneurysms may be treated endovascularly with parent artery occlusion in those cases in which selective coil embolisation is not possible.5 However, it is preferable to preserve the parent vessel, as in our case.
Unlike ruptured aneurysms in other locations, in which bleeding affects the subarachnoid space, aneurysms in P4 usually cause intraparenchymal haematomas, probably due to the location of the calcarine artery, which runs along the calcarine fissure until reaching the occipital pole. In fact, the location of the haematoma in our case led to a delay in aetiological diagnosis, which confers an increased risk of rebleeding. The risk of rebleeding is associated with high mortality and poor outcomes8 and it is highest in the first 2 to 12hours. Its incidence is estimated at 4% to 13.6% within the first 24hours.7 Early diagnosis and treatment of these lesions determines outcomes in these patients. We hypothesise that the presence of an intraparenchymal haematoma in our case may have prevented aneurysm rebleeding, which improved clinical outcome.
Our case demonstrates that underlying vascular diseases must be ruled out in young patients with intraparenchymal haemorrhages at atypical locations. Brain angiography is still the gold standard in these cases, given that the results from MRI angiography and CT angiography are negative.
Funding
This study has received no funding of any kind.
Conflicts of interest
The authors have no conflicts of interests to declare.
Please cite this article as: Mulero P, Nuñez E, Utiel E, Ruiz-Piñero M, Rodríguez-Arias CA, Calleja AI, et al. Aneurisma intracraneal distal con presentación atípica, localización y evolución en una mujer joven. Neurología. 2016;31:641–642.
Copyright © 2014. Sociedad Española de Neurología