Article information
Abstract
Full Text
Bibliography
Download PDF
Statistics
Abstract
Systemic lupus erythematosus (SLE) and antiphospholipid syndrome (APS) are 2 highly related autoimmune-rheumatic diseases associated with an increased risk of developing cardiovascular (CV) diseases. Despite the great progresses made in understanding the pathological mechanisms leading to CV diseases in those pathologies, there is still the unmet need to improve long term prognosis. CV diseases in SLE and APS is thought to happen as the result of a complex interaction between traditional CV risk factors, immune deregulation and disease activity, including the synergic effect of cytokines, chemokines, adipokines, proteases, autoantibodies, adhesion receptors, oxidative stress and a plethora of intracellular signalling molecules. Genomic and epigenomic analyses have further allowed the identification of specific signatures explaining the proathero-thrombotic profiles of APS and SLE patients. This review examines the complex role of these heterogeneous factors, and analyses new therapeutic approaches under study to reduce the CV risk in these autoimmune disorders.
Keywords:
Systemic lupus erythematosus
Antiphospholipid syndrome
Thrombosis
Atherosclerosis
Molecular mechanisms
New therapies
Resumen
La aterotrombosis en el síndrome antifosfolípido primario (SAF) y el lupus eritematoso sistémico (LES) constituye una enfermedad de carácter sistémico, en cuyo desarrollo interviene una compleja red de mediadores inmunológicos, procoagulantes, componentes inflamatorios y el estrés oxidativo, todos ellos conducentes a la activación del complemento, el daño endotelial y la activación leucocitaria. Estudios genómicos y epigenéticos han contribuido asimismo a identificar nuevos biomarcadores que, junto a factores de riesgo tradicionales, han permitido delinear nuevos mecanismos patogénicos implicados en el desarrollo de trombosis y enfermedad cardiovascular (CV) en estos pacientes. Actualmente se están estudiando nuevas herramientas terapéuticas para la prevención de la enfermedad CV, tales como las estatinas, los inhibidores del interferón α o la coenzima Q10, entre otros. Los nuevos anticoagulantes orales pueden suponer también avances importantes en el tratamiento de estos pacientes. El presente estudio examina aspectos moleculares y terapéuticos asociados al diagnóstico y el seguimiento de la enfermedad CV en SAF y LES.
Palabras clave:
Lupus eritematoso sistémico
Síndrome antifosfolípido
Trombosis
Aterosclerosis
Mecanismos moleculares
Nuevos tratamientos
Article
These are the options to access the full texts of the publication Medicina Clínica (English Edition)
Subscribe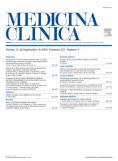 Subscribe to
Medicina Clínica (English Edition)
Contact
Phone for subscriptions and reporting of errors
From Monday to Friday from 9 a.m. to 6 p.m. (GMT + 1) except for the months of July and August which will be from 9 a.m. to 3 p.m.
Calls from Spain
932 415 960
Calls from outside Spain
+34 932 415 960
E-mail