Article information
Abstract
Full Text
Bibliography
Download PDF
Statistics
Abstract
Background and objective
There are no data related to the risk factors associated with CDI in a Hospital-Based Home Care Service (HBHCS) of the Spanish health system.
Patients and methods
Case–control study. The cases were patients admitted to the HBHCS between 01/01/2011 and 31/12/2016 who developed CDI. The controls came from the same population, with suspected CDI and CD(−) toxin. We analyzed 82 variables.
Results
We analyzed 17 cases and 95 controls, without differences in sex, age or comorbidity. Diarrhea was noted in 94% and 92%, and a percentage of deaths of 18% and 1%, respectively (p=0.001). The presence of hemiplegia/paraplegia (adjusted odds ratio [OR]=26.4, 95% CI 2.9–235.6, p=0.003) showed a significant relationship with CDI, while chronic respiratory disease and the use of cephalosporins did so with marginal significance (adjusted OR=2.9, 95% CI 0.8–10.3 and 3.1, 95% CI 0.8–11.3, respectively, both p=0.08).
Conclusions
Actions in the HBHCS directed toward CDI should include a reduction in the use of high-risk antibiotics – according to our results, cephalosporins – especially in patients with specific comorbidities, such as hemiplegia/tetraplegia or a chronic respiratory disease.
Keywords:
Hospital-based home care
Risk factors
Mortality
Anti-bacterial agents
Resumen
Antecedentes y objetivo
No hay datos relativos a los factores de riesgo asociados a la infección por Clostridium difficile (ICD) en los servicios de hospitalización domiciliaria (SHD) del sistema sanitario español.
Pacientes y métodos
Estudio casos-controles. Los casos fueron pacientes ingresados en un SHD entre 1 de enero de 2011 y el 31 de diciembre de 2016, que desarrollaron ICD. Los controles procedían de la misma población, con sospecha clínica de ICD y toxina CD(−). Se analizaron 82 variables.
Resultados
Fueron evaluados 17 casos y 95 controles, sin diferencias por sexo, edad o comorbilidad. Se registró diarrea en el 94% y 92%, y un porcentaje de exitus del 18% y 1%, respectivamente (p=0,001). La hemiplejia/paraplejia se asoció significativamente con la ICD (odds ratio [OR] ajustada=26,4; IC 95%: 2,9-235,6; p=0,003), mientras que la enfermedad respiratoria crónica y el uso de cefalosporinas presentaron una significación marginal (OR ajustadas de 2,9 [0,8-10,3] y 3,1 [0,8-11,3], ambas p=0,08).
Conclusiones
Las acciones en el SHD frente a la ICD deberían incluir una reducción en el uso de antibióticos de riesgo—según lo observado, las cefalosporinas—especialmente ante ciertas comorbilidades, como una hemiplejia/tetraplejia o una enfermedad respiratoria crónica.
Palabras clave:
Hospitalización domiciliaria
Factores de riesgo
Mortalidad
Uso antibiótico
Article
These are the options to access the full texts of the publication Medicina Clínica (English Edition)
Subscribe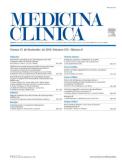 Subscribe to
Medicina Clínica (English Edition)
Contact
Phone for subscriptions and reporting of errors
From Monday to Friday from 9 a.m. to 6 p.m. (GMT + 1) except for the months of July and August which will be from 9 a.m. to 3 p.m.
Calls from Spain
932 415 960
Calls from outside Spain
+34 932 415 960
E-mail