Article information
Abstract
Full Text
Bibliography
Download PDF
Statistics
Abstract
Background and objective
Sickle cell anemia causes progressive organ damage. The objective is to describe school performance of patients with sickle cell anemia and their clinical parameters and quality of life that may have an influence. The hypothesis is that if school alterations occur without other objective data, additional factors must be present besides the disease itself.
Patients and methods
Transversal study performed in November 2015 considering analytical variables, complications and neuroradiological images of children with sickle cell anemia, and family survey on school performance and quality of life.
Results
Median age was 6.8 years and 78% were diagnosed at birth. Sixty patients were included. School performance was altered in 51% of cases and was related to nocturnal hypoxemia. Acute stroke incidence was 6.7%. Transcranial ultrasound was abnormal in 4% of cases and magnetic resonance imaging in 16% of cases. Quality of life showed pathological findings in all areas and the low values increased proportionally in older ages. The stroke affected the physical and social sphere, and lung disease affected the physical and emotional spheres.
Conclusions
Poor school performance affects half of the patients and it is related to nocturnal hypoxemia, although other socio-cultural factors may have an influence. Quality of life is affected in most of these cases independently of academic results. The absence of alterations in neuroimaging or the apparent lack of severe clinical parameters do not mean that quality of life and schooling are normal.
Keywords:
Sickle cell anemia
Quality of life
Neurocognitive disorders
Neuroimaging
Resumen
Antecedentes y objetivo
La anemia falciforme provoca una lesión orgánica progresiva. El objetivo de este trabajo es describir el rendimiento escolar de pacientes con anemia falciforme y los parámetros clínicos y de calidad de vida que pueden influir. La hipótesis es que si las alteraciones escolares se presentan sin otros datos objetivos, factores añadidos deben concurrir aparte de la propia enfermedad.
Pacientes y métodos
Estudio transversal realizado en noviembre de 2015 considerando variables analíticas, complicaciones e imágenes neurorradiológicas de niños con anemia falciforme, y encuesta familiar sobre rendimiento escolar y calidad de vida.
Resultados
Se incluyeron 60 pacientes. La mediana de edad fue de 6,8 años, y el 78% se diagnosticaron al nacimiento. El rendimiento escolar estaba alterado en el 51% y se relacionó con hipoxemia nocturna. El accidente cerebrovascular se presentó en el 6,7%. La ecografía doppler transcraneal fue patológica en el 4% y la resonancia magnética en el 16%. La calidad de vida arrojó resultados patológicos en todas las esferas y aumentó la proporción con valores bajos a mayor edad. El accidente cerebrovascular afectó la esfera física-social, y la neumopatía, la física-emocional.
Conclusiones
El fracaso escolar como expresión de lesión crónica cerebral en la anemia falciforme afecta a la mitad de los pacientes y se relaciona con hipoxemia nocturna, aunque otros factores de confusión socioculturales pueden influir. La calidad de vida está alterada en la mayoría de los niños, independientemente del retraso escolar. La ausencia de una lesión orgánica objetiva en la neuroimagen o de parámetros de gravedad clínica no implican que la calidad de vida o la escolarización sean normales.
Palabras clave:
Anemia de células falciformes
Calidad de vida
Trastornos neurocognitivos
Neuroimagen
Article
These are the options to access the full texts of the publication Medicina Clínica (English Edition)
Subscribe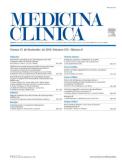 Subscribe to
Medicina Clínica (English Edition)
Contact
Phone for subscriptions and reporting of errors
From Monday to Friday from 9 a.m. to 6 p.m. (GMT + 1) except for the months of July and August which will be from 9 a.m. to 3 p.m.
Calls from Spain
932 415 960
Calls from outside Spain
+34 932 415 960
E-mail