Article information
Abstract
Full Text
Bibliography
Download PDF
Statistics
Abstract
To date, stroke prevention in patients with diabetes mellitus (DM) has been based on the control of other risk factors and comorbidities, as clinical trials aimed at intensive glycemic control have failed to prove the existence of any sort of benefit in reducing macrovascular complications. However, thanks to the FDA's requirement to evaluate the vascular risk of antidiabetic drugs, there has been significant progress in the knowledge of their benefits on the risk of vascular death, acute myocardial infarction and non-fatal stroke in patients with type 2 DM and high vascular risk. This implies the need to incorporate these drugs into the overall vascular prevention strategy in patients with DM who have already suffered a stroke. This manuscript is a critical, non-systematic review on the oral antidiabetics that have demonstrated any sort of effect on stroke risk, interpreting the results of the main clinical trials from the neurologist's point of view.
Keywords:
Stroke
Diabetes mellitus
Antidiabetic agents
Prevention
Resumen
Hasta el momento, la prevención de ictus en pacientes con diabetes mellitus (DM) se basaba en el control de otros factores de riesgo y comorbilidades, ya que los ensayos clínicos de control glucémico intensivo no habían demostrado eficacia en la reducción de complicaciones macrovasculares. Pero gracias al requerimiento de la FDA de evaluar el riesgo vascular de los fármacos antidiabéticos, se ha producido un importante avance en el conocimiento de sus beneficios sobre el riesgo de muerte vascular, infarto agudo de miocardio e ictus no fatales en los pacientes con DM tipo 2 y alto riesgo vascular. Esto supone la necesidad de incorporar estos fármacos en la estrategia de prevención vascular global en pacientes con DM que ya han tenido un ictus. Se presenta una revisión crítica, no sistemática, de los fármacos antidiabéticos que han mostrado algún efecto sobre el riesgo de ictus, interpretando sus resultados desde la perspectiva del neurólogo.
Palabras clave:
Ictus
Diabetes mellitus
Fármacos antidiabéticos
Prevención
Article
These are the options to access the full texts of the publication Medicina Clínica (English Edition)
Subscribe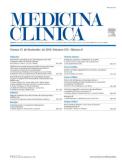 Subscribe to
Medicina Clínica (English Edition)
Contact
Phone for subscriptions and reporting of errors
From Monday to Friday from 9 a.m. to 6 p.m. (GMT + 1) except for the months of July and August which will be from 9 a.m. to 3 p.m.
Calls from Spain
932 415 960
Calls from outside Spain
+34 932 415 960
E-mail