Article information
Abstract
Full Text
Bibliography
Download PDF
Statistics
Resumen
Antecedentes y objetivo
La atención sanitaria está evolucionando de la visión tradicional paternalista a una relación más informada y participativa del paciente. Esta situación incluye el empoderamiento y la participación de los pacientes y sus familias en la gestión sanitaria, así como su corresponsabilidad en el desarrollo de los servicios de salud.
El objetivo de este trabajo es describir la experiencia del Hospital Sant Joan de Déu en la aplicación de un modelo de gestión estratégica de la asistencia sanitaria que incorpora la experiencia del paciente.
Materiales y métodos
Este enfoque se identifica mediante el modelo EMC2 transformando la E de excelencia en las 3áreas de mejora: metodología, conocimiento clínico y cliente o paciente. El modelo se ha aplicado en diferentes áreas: atención del asma, consultas externas, quirófano o atención al parto, entre otras.
Resultados
En el caso del parto, con la implementación del modelo se produjo una reducción en cesáreas, episiotomías, inducción al parto, estancia media hospitalaria y número de partos con instrumentación. La puntuación del Net Promoter Score pasó de 82 a 86. Se produjo una mejora en las áreas de experiencia del paciente, procedimientos hospitalarios y conocimiento clínico. Se obtuvieron resultados cualitativos de mejora en otras áreas como el abordaje del asma, consultas externas y quirófano.
Conclusiones
El modelo se puede aplicar en distintos ámbitos, promueve la atención centrada en el paciente y la mejora continua de la calidad a través de la sostenibilidad, eficacia, eficiencia y satisfacción con la atención recibida.
Palabras clave:
Gestión hospitalaria
Excelencia
Metodología de gestión
Conocimiento clínico
Experiencia del paciente
Mejora de la calidad
Abstract
Background and objective
Health services are evolving from the traditional view of paternalistic medicine towards a more informed and participatory patient-provider relationship. This situation includes the empowerment and participation of patients and their families in health management, including their joint responsibility in the development of health services.
The objective of this article is to describe the experience in a large teaching hospital in Spain on the application of a model that focuses on a three-fold approach to healthcare management that includes the experience of the patient.
Material and methods
This approach is identified by the initials EMC2 transforming the E of excellence into 3main areas of improvement: methodology, clinical knowledge and client, or patient, experience. the model has been implemented in different areas: childbirth, asthma care, outpatient clinics, and operating theatre.
Results
In the case of childbirth, there was a reduction in caesarean sections, episiotomies, induction of delivery, mean hospital stay, and number of deliveries with instrumentation. The Net Promoter Score went from 82 to 86. There was also an improvement in the areas of patient experience, hospital procedures, and clinical knowledge. Qualitative improvement results were obtained in other areas such as, asthma management, outpatient visits, and the operating room.
Conclusions
This model can be applied to different areas. It promotes patient-focused practice, as well as system sustainability, efficiency, effectiveness, and level of satisfaction with the health care process.
Keywords:
Hospital management
Excellence
Management methodology
Clinical knowledge
Patient experience
Quality improvement
Article
These are the options to access the full texts of the publication Journal of Healthcare Quality Research
Subscribe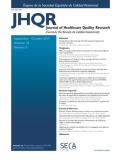 Subscribe to
Journal of Healthcare Quality Research
Contact
Phone for subscriptions and reporting of errors
From Monday to Friday from 9 a.m. to 6 p.m. (GMT + 1) except for the months of July and August which will be from 9 a.m. to 3 p.m.
Calls from Spain
932 415 960
Calls from outside Spain
+34 932 415 960
E-mail