Article information
Abstract
Full Text
Bibliography
Download PDF
Statistics
Tables (5)
Tabla 2. Priorización de la propuesta de indicadores para la evaluación de la atención integral a pacientes con FA
Tabla 3. Fichas descriptivas de indicadores de estructura
Tabla 4. Fichas descriptivas de indicadores de proceso
Tabla 5. Fichas descriptivas de indicadores de resultado
Resumen
Objetivo
Describir los hitos del proceso asistencial de pacientes con fibrilación auricular (FA) en tratamiento anticoagulante e indicadores de calidad y seguridad para contribuir a establecer un proceso de atención integrada de estos pacientes en la Comunidad de Madrid.
Métodos
Se aplicó la técnica de conferencia de consenso con participación de 21 profesionales (7 en el grupo de dirección y 14 en un panel de expertos jurados), de las especialidades de urgencias, medicina interna, cardiología, neurología, hematología, medicina de familia, enfermería y calidad y de ambos niveles asistenciales, hospitales y atención primaria. Se consensuaron hitos, elementos y barreras/limitaciones en el proceso asistencial del paciente con FA anticoagulado. También un conjunto mínimo de indicadores para evaluar la calidad asistencial.
Resultados
Se identificaron 4 hitos (estratificación del riesgo de tromboembolia y hemorragia, evaluación para tratamiento anticoagulante, seguimiento del tratamiento con anticoagulantes orales de acción directa y seguimiento del tratamiento con antagonistas de la vitamina K) y se priorizaron un total de 14 barreras/limitaciones que limitaban la calidad de la respuesta terapéutica. En total de se definieron 6 indicadores, 2 de estructura, 2 de proceso y 2 de resultado.
Conclusiones
Se han consensuado hitos y actividades críticas, junto a un conjunto de indicadores, para la elaboración de rutas asistenciales con las que lograr un mejor abordaje terapéutico de los pacientes con FA anticoagulados.
Palabras clave:
Fibrilación auricular
Anticoagulación
Guías de práctica
Investigación cualitativa
Abstract
Objective
To describe the milestones in the anticoagulant care process of atrial fibrillation patients (AF), as well as quality and safety indicators, in order to establish an integrated care process of these patients in the Community of Madrid.
Methods
A consensus conference technique was applied, with the participation of 21 professionals (seven in the Steering Group and 14 known experts), from the specialties of Emergency, Internal Medicine, Cardiology, Neurology, Haematology, Family Medicine, Nursing, and Quality. Hospitals and Primary Care were represented. Milestones, elements and barriers/limitations were agreed upon in the care process of anticoagulated AF patients. A minimum set of indicators were also defined to assess the quality of care.
Results
Four milestones (stratification of thromboembolism and bleeding risk, evaluation for anticoagulant treatment, follow-up of direct-acting oral anticoagulants, and follow-up of treatment with vitamin K antagonists) were identified. A total of 14 barriers/limitations were also prioritised. In total, six indicators were defined (two structural-related, two processes-related, and two outcomes-related).
Conclusions
Milestones and critical activities, together with a set of indicators, have been agreed for the development of guidelines with which to achieve a better therapeutic approach for anticoagulated AF patients.
Keywords:
Atrial fibrillation
Anticoagulation
Guidelines
Qualitative research
Article
These are the options to access the full texts of the publication Journal of Healthcare Quality Research
Subscribe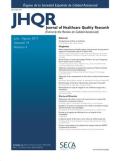 Subscribe to
Journal of Healthcare Quality Research
Contact
Phone for subscriptions and reporting of errors
From Monday to Friday from 9 a.m. to 6 p.m. (GMT + 1) except for the months of July and August which will be from 9 a.m. to 3 p.m.
Calls from Spain
932 415 960
Calls from outside Spain
+34 932 415 960
E-mail