Article information
Abstract
Full Text
Bibliography
Download PDF
Statistics
Abstract
Objective
Analyse the role of the nurse at the end of the life of a critically ill patient.
Method
Bibliographic review from a search of the health science databases such as PubMed, CINAHL, Cuiden, Scopus, Cochrane, as well as specialised platforms, general and thematic browsers. The limits were language (English or Spanish) and publication date (2005–2015).
Results
180 articles met the inclusion criteria, and 16 of them were selected for analysis. The main results were grouped into three categories of analysis: direct patient care, family-focussed care and the nurse's role within the team.
Conclusions
the described roles place the nurse as a key element in humanising death in the ICU and so nurses can and must lead change, playing an active role in creating strategies that really promote the integration of a palliative care approach in ICU.
Keywords:
Intensive care unit
Withdrawing of life support
Palliative care
Nurse's role
Decision making
Resumen
Objetivo
Analizar el rol de la enfermera en el cuidado al final de la vida del paciente crítico.
Método
Revisión bibliográfica a partir de la búsqueda en bases de datos de ciencias de la salud: PubMed, CINAHL, Cuiden, Scopus, Cochrane Plus, y en plataformas especializadas, buscadores generales y temáticos. Los límites establecidos fueron el idioma (español e inglés) y la fecha de publicación (2005-2015).
Resultados
Ciento ochenta artículos cumplieron los criterios de inclusión, seleccionándose 16 para su análisis. Los principales resultados se agruparon en tres categorías de análisis: el cuidado directo al paciente, la atención centrada en la familia y el rol dentro del equipo multidisciplinar.
Conclusiones
Los roles descritos sitúan a la enfermera como un elemento clave para humanizar la muerte en las UCI, por ello las enfermeras pueden y deben liderar el cambio desempeñando un papel activo en la creación de estrategias que hagan realidad la integración del enfoque de cuidados paliativos en las UCI.
Palabras clave:
Unidad de Cuidados Intensivos
Limitación de tratamiento de soporte vital
Cuidados paliativos
Rol de la enfermera
Toma de decisiones
Article
These are the options to access the full texts of the publication Enfermería Intensiva (English Edition)
Subscribe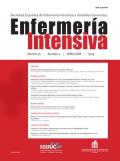 Subscribe to
Enfermería Intensiva (English Edition)
Contact
Phone for subscriptions and reporting of errors
From Monday to Friday from 9 a.m. to 6 p.m. (GMT + 1) except for the months of July and August which will be from 9 a.m. to 3 p.m.
Calls from Spain
932 415 960
Calls from outside Spain
+34 932 415 960
E-mail