Article information
Abstract
Full Text
Bibliography
Download PDF
Statistics
Tables (4)
Table 2. Resistance determinants found in Klebsiella pneumoniae isolates (n=100) recovered over a 31-year period in a tertiary care hospital centre in Lisbon, Portugal.
Table 3. Distribution of virulence factors and their respective genes among Klebsiella pneumoniae isolates producing different types of β-lactamases.
Table 4. Virulence profiles and number of virulence genes identified in isolates of Klebsiella pneumoniae producing different types of β-lactamases and carbapenemases.
Abstract
Introduction
The rapid and complex evolution of bacterial resistance mechanisms in Klebsiella pneumoniae producing extended-spectrum β-lactamases and carbapenemases in Klebsiella pneumoniae is one of the most significant threats to public health. However, questions and controversies regarding the interactions between resistance and virulence in multidrug-resistant K. pneumoniae isolates remain unclear.
Methods
A retrospective cohort study was performed with 100 K. pneumoniae isolates recovered from a tertiary care university hospital centre in Lisbon over a 31-year period. Resistance and virulence determinants were screened using molecular methods (PCR, M13-PCR and MLST).
Results
The predominant virulence profile (fimH, mrkDv1, khe) was shared by all isolates, indicative of an important role of type 1 and 3 fimbrial adhesins and haemolysin, regardless of the type of β-lactamase produced. However, accumulation of virulence factors was identified in KPC-3-producers, with a higher frequency (p<0.05) of capsular serotype K2 and iucC aerobactin when compared with non-KPC-3 β-lactamases or carbapenemases. Additionally, 9 different virulence profiles were found, indicating that the KPC-3 carbapenemase producers seem to adapt successfully to the host environment and maintain virulence via several pathways.
Conclusion
This study describes an overlapping of multidrug-resistance and virulence determinants in ST-14K2 KPC-3 K. pneumoniae clinical isolates that may impose an additional challenge in the treatment of infections caused by this pathogen.
Keywords:
Virulence
Beta-lactamases
Bacterial infections
Cross-infection
Resumen
Introducción
La rápida y compleja evolución de los mecanismos de resistencia de Klebsiella pneumoniae productora de beta-lactamasas de espectro extendido y carbapenemasas en Klebsiella pneumoniae es una de las amenazas más importantes para la salud pública. Sin embargo, aun existe controversia sobre la interacción entre la resistencia y la virulencia en aislados de K. pneumoniae resistentes a múltiples antimicrobianos.
Métodos
Se realizó un estudio de cohorte retrospectivo con 100 aislados de Klebsiella pneumoniae de un centro hospitalario universitario en Lisboa durante 31 años. Los determinantes de la resistencia y virulencia se rastrearon utilizando métodos moleculares (PCR, M13-PCR y MLST).
Resultados
Todos los aislados compartían un perfil de virulencia predominante (fimH, mrkDv1, khe), lo que indica un papel importante de las adhesinas fimbriales de tipo 1 y 3, y de la hemolisina, independientemente del tipo de β-lactamasa producida. Sin embargo, la acumulación de factores de virulencia del serotipo capsular K2 y la aerobactina iucC se identificó con una mayor frecuencia en las cepas productoras de KPC-3 (p<0,05) en comparación con las productoras de otras β-lactamasas o carbapenemasas. Además, se encontraron 9 perfiles de virulencia diferentes, indicativos de que las cepas productoras de carbapenemasa KPC-3 parecen adaptarse con éxito al entorno y mantener la virulencia por varias vías.
Conclusión
Este estudio describe la unión de resistencia a múltiples antimicrobianos junto con determinantes de virulencia en aislados clínicos de K. pneumoniae ST-14K2 KPC-3 lo que puede suponer un desafío adicional en el tratamiento de infecciones causadas por este patógeno.
Palabras clave:
Virulencia
Beta-lactamasas
Infecciones bacterianas
Infección cruzada
Article
These are the options to access the full texts of the publication Enfermedades Infecciosas y Microbiología Clínica (English Edition)
Subscribe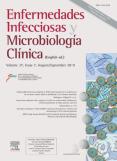 Subscribe to
Enfermedades Infecciosas y Microbiología Clínica (English Edition)
Contact
Phone for subscriptions and reporting of errors
From Monday to Friday from 9 a.m. to 6 p.m. (GMT + 1) except for the months of July and August which will be from 9 a.m. to 3 p.m.
Calls from Spain
932 415 960
Calls from outside Spain
+34 932 415 960
E-mail