Article information
Abstract
Full Text
Bibliography
Download PDF
Statistics
Tables (5)
Table 1. CLSI susceptibility breakpoints for P. aeruginosa of the studied antimicrobials,10 dosing regimens evaluated, and pharmacokinetic/pharmacodynamic (PK/PD) targets,22 and pharmacokinetic parameters (mean± standard deviation).12–21
Table 2. Percentage of P. aeruginosa susceptible strains from 2000 to 2017 calculated considering the first isolate.
Table 3. Trends in susceptibility rates calculated considering the first isolate of P. aeruginosa from 2000 to 2017.
Table 4. Antimicrobialś CFRs, for the recommended dosage regimens, calculated considering the first isolate.
Table 5. Linear regression results for CFR considering the first isolate per patient.
Abstract
Introduction
To evaluate the changes in the susceptibility of Pseudomonas aeruginosa over time (2000–2017) against antimicrobials used in an intensive care unit of a Spanish tertiary hospital, and to compare them with the antimicrobial activity considering theoretical pharmacokinetic/pharmacodynamic (PK/PD) criteria. The influence of the method for handling duplicate isolates to quantify susceptibility rates was also evaluated.
Methods
The susceptibility was studied considering the Clinical and Laboratory Standards Institute (CLSI) breakpoints. Monte Carlo simulations were conducted to calculate the cumulative fraction of response (CFR). Linear regression analysis was applied to determine the trends in susceptibility and in the CFR.
Results
A significant decrease in the susceptibility to gentamicin and imipenem was observed, and more recently the highest percentages of susceptible strains were found for amikacin, cephalosporins and piperacillin/tazobactam (>80%). The probability of success of an empiric treatment or CFR for most of the evaluated antimicrobials was lower than 70% during the last two-year period. Only meropenem provided high probabilities (>90%) to achieve the PK/PD target. Cephalosporins provided moderate probabilities (>80%) although for ceftazidime, the highest dose (2g/8h) was required. Moreover, a significant decrease in the CFR trend for ciprofloxacin, imipenem and levofloxacin was observed.
Conclusions
Both susceptibility rates and CFR values have to be considered together to optimize the antimicrobial dose regimen for clinical making-decisions. They are complementary tools and, they should be used jointly in surveillance programmes. In fact, susceptibility data are not always useful to detect changes in the CFR. No relevant differences were observed among the methods for handling repeated isolates.
Keywords:
Duplicate isolates
Intensive care
Antibiotic resistance surveillance
Pharmacokinetics/pharmacodynamics
Monte Carlo simulation
Resumen
Introducción
Evaluar los cambios en la sensibilidad de Pseudomonas aeruginosa (2000-2017) a los antimicrobianos utilizados en una unidad de cuidados intensivos en España, y compararlos con la actividad antimicrobiana considerando criterios farmacocinéticos/farmacodinámicos (PK/PD) teóricos. También se comparan los diferentes métodos para el manejo de aislados duplicados utilizados para cuantificar la sensibilidad.
Métodos
La sensibilidad se determinó siguiendo los puntos de corte del Clinical and Laboratory Standards Institute (CLSI). Se realizaron simulaciones de Monte Carlo para calcular la fracción de respuesta acumulada (CFR). Se analizó la tendencia en la sensibilidad microbiana y la CFR a lo largo del tiempo mediante regresión lineal.
Resultados
En el análisis de tendencias se observó un descenso significativo en la sensibilidad a gentamicina e imipenem, y una disminución significativa de la CFR para ciprofloxacino, imipenem y levofloxacino. En los últimos años, amikacina, cefalosporinas y piperacilina/tazobactam presentaron los mayores valores de sensibilidad (>80%). La CFR para la mayoría de los antimicrobianos fue inferior al 70% durante el último periodo estudiado. Solo meropenem proporcionó altas probabilidades (>90%) de alcanzar el objetivo PK/PD. Las cefalosporinas proporcionaron probabilidades moderadas (>80%), siendo necesarias dosis elevadas de ceftazidima (2g/8h).
Conclusiones
Los datos de sensibilidad antimicrobiana y los valores de CFR deben considerarse herramientas complementarias y, por tanto, evaluarse conjuntamente tanto en actividades de vigilancia como en la evaluación de la eficacia terapéutica de los regímenes de dosificación. De hecho, los datos de sensibilidad no siempre son útiles para detectar cambios en la CFR. Finalmente, no se observaron diferencias relevantes entre los métodos para el manejo de aislados duplicados empleados.
Palabras clave:
Aislados duplicados
Cuidados intensivos
Vigilancia resistencia antimicrobiana
Farmacocinética/farmacodinamia
Simulación de Monte Carlo
Article
These are the options to access the full texts of the publication Enfermedades Infecciosas y Microbiología Clínica (English Edition)
Subscribe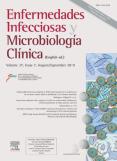 Subscribe to
Enfermedades Infecciosas y Microbiología Clínica (English Edition)
Contact
Phone for subscriptions and reporting of errors
From Monday to Friday from 9 a.m. to 6 p.m. (GMT + 1) except for the months of July and August which will be from 9 a.m. to 3 p.m.
Calls from Spain
932 415 960
Calls from outside Spain
+34 932 415 960
E-mail