Article information
Abstract
Full Text
Bibliography
Download PDF
Statistics
Abstract
Sexually transmitted infections caused by Chlamydia trachomatis, including lymphogranuloma venereum and Mycoplasma genitalium have increased in last decade. This epidemiological scenario presents new challenges in order to improve and strengthen our control and prevention strategies. The routine clinical diagnosis of urethritis and cervicitis must be combined with the active search for the causal agent in men with symptoms of dysuria or proctitis, and in women with pelvic inflammatory disease. We should also include sexually transmitted infections screening in asymptomatic patients with sexual risk behaviours or sexual contact with patients diagnosed with a sexually transmitted infection. The microbiological diagnosis must be based on molecular techniques capable of detecting C. trachomatis (discriminating between L genotypes associated with lymphogranuloma venereum and other genotypes) and M. genitalium (ideally including the identification of macrolide-resistant strains). A faster and specific diagnosis will allow for a targeted treatment with a suitable antibiotic regimen. We also recommend including contact tracing of sexual partners and, occasionally, a cure test. Finally, sexually transmitted infection screening must be widely implemented in those population groups with a high prevalence of sexually transmitted infections.
Resumen
El incremento en las infecciones de transmisión sexual por Chlamydia trachomatis, incluyendo el linfogranuloma venéreo, y Mycoplasma genitalium registrado en la última década plantea nuevos retos para mejorar su control y reforzar su prevención. El diagnóstico clínico habitual (uretritis/cervicitis) debe completarse con una búsqueda activa de la infección en varones con disuria o proctitis, mujeres con enfermedad inflamatoria pélvica y contactos asintomáticos. El diagnóstico microbiológico debe basarse en técnicas moleculares, capaces de detectar Chlamydia trachomatis (diferenciando el genotipo L para linfogranuloma venéreo) y Mycoplasma genitalium (incluyendo idealmente la detección de cepas resistentes a macrólidos). Un diagnóstico más rápido y específico permitirá un tratamiento dirigido con la pauta antibiótica idónea. El manejo de estas infecciones de transmisión sexual debe incluir un estudio de los contactos sexuales y en ocasiones un test de cura. Finalmente, deben ser valorados los cribados de infección en grupos de población con mayor prevalencia.
Article
These are the options to access the full texts of the publication Enfermedades Infecciosas y Microbiología Clínica (English Edition)
Subscribe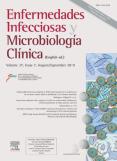 Subscribe to
Enfermedades Infecciosas y Microbiología Clínica (English Edition)
Contact
Phone for subscriptions and reporting of errors
From Monday to Friday from 9 a.m. to 6 p.m. (GMT + 1) except for the months of July and August which will be from 9 a.m. to 3 p.m.
Calls from Spain
932 415 960
Calls from outside Spain
+34 932 415 960
E-mail