Article information
Abstract
Full Text
Bibliography
Download PDF
Statistics
Tables (4)
Table 1. Demographic and Clinical Data of Patients (N = 35). Age at Diagnosis, Disease Location and Behavior Were Defined According to the Montreal Classification.22,23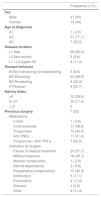 Abstract
Introduction
Accurate quantification of the inflammatory activity in Crohn's Disease is essential to decide the adequate treatment for each patient. The aim of the present study is to assess the correlation between the pre-operative Magnetic Resonance Index of Activity (MaRIA) and the histologic degree of inflammation from surgically resected intestinal Crohn's Disease lesions.
Methods
This is a prospective study including a consecutive case series of patients with small bowel Crohn's Disease, who underwent surgical resection. A Magnetic Resonance Enterography was performed during the three months prior to surgery, applying a pre-established protocol. Relative contrast enhancements, wall thickness, presence of edema or ulcerations were the parameters used to calculate the MaRIA Index. All patients underwent surgery and every specimen was analysed. The modified Chiorean classification was applied for the histological analysis and an ordinal regression analysis was used in order to correlate MaRIA and the grade of inflammation for each lesion.
Results
59 lesions from 35 different patients were analysed. The degree of inflammation of the lesions was statistically correlated to the MaRIA values (P = .002). The MaRIA index was significantly different (P < .001) between the different histological type of the Crohn's Disease lesions (inflammatory/ fibrotic). The best cut-off for detecting severe inflammation using MaRIA was 20 (AUC: 0.741, 74.1% sensitivity and 78.1% specificity).
Conclusion
MaRIA is a reliable tool to distinguish inflammatory from fibrotic lesions; therefore, it could be considered crucial to determine the most appropriate Crohn's Disease treatment for each patient.
Keywords:
Crohn's disease
Magnetic resonance imaging
MaRIA score
Preoperative assessment
RESUMEN
Introducción
La correcta cuantificación de la actividad inflamatoria de las lesiones de la enfermedad de Crohn es necesaria para establecer cuál es el manejo más adecuado para cada paciente. El objetivo del presente estudio es valorar la relación entre el Índice de Actividad Inflamatorio Radiológico de la Resonancia Magnética (MaRIA) preoperatorio y el grado de inflamación histológico de las lesiones obtenidas en la cirugía.
Métodos
Estudio prospectivo observacional consecutivo que incluye una serie de pacientes con Enfermedad de Crohn ileal. Se realizó una resonancia magnética mediante enterografía, con protocolo y secuencias pre-establecidas, en los tres meses previos a la cirugía y se calculó el índice MaRIA. Todos los pacientes fueron intervenidos quirúrgicamente y se remitieron muestras de cada lesión de pared completa a estudio anatomopatologico. En el análisis histológico se empleó la clasificación de Chiorean. Se realizó un ánálisis de regresión ordinal e intergrupos.
Resultados
Se incluyen 35 pacientes con 59 lesiones. A medida que aumenta el grado de inflamación se obtienen, de forma significativa (p = 0.002), valores mayores del MaRIA. El índice de MaRIA fue significativamente diferente (p < 0.001) en los diferentes tipo de lesiones por Enfermedad de Crohn (inflamatorias/fibrotica). El mejor punto de corte del índice MaRIA para determinar la presencia de inflamación severa en una lesión ha resultado ser 20 (ABC 0,741, sensibilidad 74.1%, especificidad 78.1%).
Conclusiones
En el estudio de la Enfermedad de Crohn ileal, la resonancia y el índice MaRIA son unas herramientas de gran utilidad para diferenciar lesiones inflamatorias vs. fibrosas y por lo tanto imprescindible para decidir el tratamiento más adecuado.
Palabras clave:
Enfermedad de Crohn
Resonancia magnetica
Índice MaRIA
Valoración preoiperatoria