Article information
Abstract
Full Text
Bibliography
Download PDF
Statistics
Tables (3)
Table 1. Demographic and clinicopathological characteristics of the patients with gastric cancer treated with radical intent.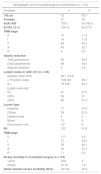 Abstract
Introduction
National information on the oncological results of gastric cancer surgery is scarce, so foreign figures are used, which may completely differ from local ones. The aim of our study is to analyse these results in the patients operated on in our centre.
Methods
Survival results of 134 patients that underwent gastric cancer surgery with curative intent from 2004 to June 2016 were analysed.
Results
A percentage of 76.8 of the patients (103/134) presented in advanced clinical stages (≥ii). Staging laparoscopy was performed in 67% of them (69/103), an extensive lymphadenectomy (≥LD1+) was carried out in 89.3% of patients (92/103), and 76.7% (79/103) received perioperative chemotherapy. The distribution by pathological stage 0, i, ii, iii and iv was 8.2, 20.2, 26.1, 37.3, and 8.2%, respectively. Median follow-up was 87 months. Median OS was 68 months and one-, 3- and 5-year OS were 81.2, 62, and 53.8%, respectively. The 5-year OS according to pathological staging was 100% for stage 0, 88.4% for stage i, 62.5% for stage ii, 23.6% for stage iii and 17% for stage iv.
Conclusions
Our survival rates are in the high ranges of western literature. These results could not be compared with national ones due to the lack of information regarding oncological outcomes in gastric cancer surgery in our closest environment.
Keywords:
Stomach neoplasms
Survival
Registries
Spain
Resumen
Introducción
No hay apenas información nacional sobre los resultados oncológicos de la cirugía del cáncer gástrico, por lo que se utilizan cifras foráneas, que pueden ser absolutamente distintas de las locales. El objetivo de nuestro trabajo es analizar estos resultados en los pacientes intervenidos en nuestro centro.
Métodos
Se analizan los resultados de supervivencia de 134 pacientes intervenidos por cáncer gástrico con intención curativa desde 2004 hasta junio de 2016.
Resultados
El 76,8% de los pacientes (103/134) tenían estadios clínicos avanzados (≥ii), se realizó laparoscopia de estadificación en el 67% de los mismos (69/103), linfadenectomía extensa (≥LD1+) en el 89,3% (92/103), y recibieron QT perioperatoria el 76,7% (79/103). La distribución final por estadios patológicos 0, i, ii, iii y iv fue del 8,2; 20,2; 26,1; 37,3 y 8,2%, respectivamente. La mediana de seguimiento fue de 87 meses. La mediana de SG fue de 68 meses y la SG a uno, 3 y 5 años fue del 81,2, 62 y 53,8%, respectivamente. La SG a 5 años según el estadio patológico fue del 100% para el estadio 0, del 88,4% para el estadio i, del 62,5% para el estadio ii, del 23,6% para el estadio iii y del 17% para el estadio iv.
Conclusiones
Nuestras tasas de supervivencia se encuentran en los rangos altos de la literatura occidental. No se han podido comparar con resultados nacionales debido al déficit de información sobre resultados oncológicos en la cirugía del cáncer gástrico en nuestro entorno más cercano.
Palabras clave:
Neoplasias gástricas
Supervivencia
Registros
España
Article
These are the options to access the full texts of the publication Cirugía Española (English Edition)