Texto completo
Case description
A 29-year-old woman with systemic lupus erythematosus, on treatment with prednisone (30mg/day PO for 2 months), hydroxychloroquine (200mg/day PO for 2 months), and mycophenolate mofetil (2.5g/day PO for 2 months), presented to the emergency room with odynophagia, myalgias, arthralgias, and persistent fever for the last 5 days without any abnormal physical finding. After an initial assessment, the chest radiograph revealed lobar pneumonia and received outpatient management with levofloxacin (750mg/day PO for 4 days). Later, after the lack of improvement and the appearance of productive cough, and dyspnea, the patient was admitted to the hospital. On examination, presented high fever (39.2°C), tachycardia, and SaO2 of 92%, without any abnormal neurologic nor cardiopulmonary findings. Laboratory testing revealed increased WBC (16,500/mm3) and neutrophil count (15,741/mm3), but lymphopenia (148/mm3), also showed an increased CRP (25mg/dL), alkaline phosphatase (204U/L), and GGT (78U/L), but a normal renal function, additionally blood cultures were drawn. Based on the progression of symptoms, persistent fever, and former tests, a thorax-abdomen CT scan (Fig. 1) was done and revealed multifocal pneumonia, hepatic lesions suggestive of abscesses (segments VI and VII), and a perinephric abscess in the right kidney. Hence she was started on broad-spectrum antibiotics with meropenem (1gr q8h IV) and vancomycin (1gr q12h IV).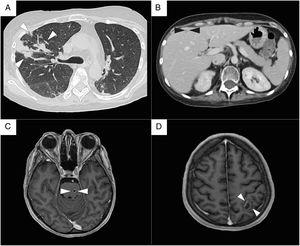 Fig. 1.
Radiologic findings. (A) Chest CT scan. Bilateral ground-glass opacifications, with nodules and consolidations in the right lung (white arrowheads). (B) Abdomen CT scan. Liver with well-defined, hypodense round lesions suggestive of abscesses (black arrowheads). (C) Brain MRI, T1 weighted sequence. Multiple brain abscesses, a small pontine lesion (white arrowheads), and (D) an intra-axial lesion in the left hemisphere, with a well-defined ring-enhancing wall and surrounding edema, that measure 18mm in diameter (white arrowheads).
(0,39MB).
Evolution
Over the next days, the patient presented the progression of respiratory symptoms, including dyspnea, and tachypnea, as well as higher oxygen requirements. Therefore a bronchoalveolar lavage was performed without microbiological isolation. As part of its diagnostic approach, an echocardiogram showed a low probability of endocarditis. A brain MRI, revealed multiple brain abscesses, the largest with an 18mm diameter. And in the absence of clinical and radiological signs of intracranial hypertension, a lumbar puncture was performed, which resulted in a normal CSF without any culture isolation.
On the seventh day of admission, Gram-positive branching rods were observed in blood cultures and filamentous rods in the Kinyoun stain (Fig. 2), and finally identified as Nocardia farcinica. The treatment was adjusted accordingly to the antimicrobial susceptibility test (supplemental material), to trimethoprim-sulfamethoxazole (TMP/SMX, 15mg/kg/day IV), amikacin (15mg/kg/day IV), and linezolid (600mg q12h IV). Besides the perinephric abscess was drained with the isolation of the same microorganism. Suddenly, presented diminished visual acuity with clinical data of endophthalmitis (Fig. 3) and vitrectomy with an application of intravitreal amikacin was performed. On the right thigh, initially an area of cellulitis, an MRI showed pyomyositis with abscesses at the vastus intermedius muscle and quadriceps myositis. Therefore surgical lavage was performed. In the follow-up eight weeks of intravenous treatment, she had a satisfactory clinical response, with improvement in visual acuity and a decrease in lung lesions and the others abscesses on the CT scan; although brain abscesses reduced in a less proportion on MRI. Based on the susceptibility pattern, the patient completed over a year of treatment with ciprofloxacin and TMP/SMX with a radiological resolution of the previous findings.

Fig. 3.
Funduscopic findings. (A) Dilated fundus examination revealed a white, rounded, small retinal lesion with well-defined borders in the superior temporal quadrant of the right eye (black arrow). (B) Left eye with vitreous haze and multiple vitreous condensations in the form of bands, extending from the optic nerve (black arrows); and a similar retinal lesion as the contralateral eye, in the superior temporal quadrant.
(0,08MB).
Comments
Nocardia species are actinomycetes with a wide environmental distribution, as a saprophytic component.1 The most common species include N. asteroides, brasiliensis, farcinica, nova, otitidiscaviarum, transvalensis.2 Cause opportunistic infections in immunocompromised, including those with corticosteroid use, hematologic malignancies, transplant recipients, systemic lupus erythematosus, and with non-drug induced immunosuppression (chronic granulomatous disease, chronic alcoholism, diabetes, HIV).2 Immunocompetent are affected, as primary cutaneous infections, by N. brasiliensis in 80% of cases.2 A hallmark of nocardiosis is the diversity of the clinical presentation, from localized to disseminated disease.3 The most common manifestation is pulmonary, frequently occurring in those who have underlying chronic lung disease, and up to 50% involve extrapulmonary disease. 20% of disseminated disease present without pulmonary involvement, but is associated with CNS pathology, with ≥1 brain abscesses that tend to be indolent. Bacteremia is unusual, results from either pulmonary or extrapulmonary origins.1 Ocular pathology is an uncommonly reported clinical entity. Nocardial endophthalmitis is associated with high mortality, unlike this case, most progress to blindness despite treatment.1,4
Diagnosis requires the identification of Nocardia spp on specimens. Culture requires a minimum of 48–72h, the colonial morphology is variable, from chalky white to orange colonies, a "cotton candy" (aerial hyphae) appearance on the surface, that differentiate it from related genera (Mycobacterium, Rhodococcus). Staining with modified acid-fast (Kinyoun stain) and Gram stains, being the latter the most sensitive method to recognize it, will provide a rapid presumptive diagnosis. The speciation by molecular methods is more precise and rapid than other tests.
Nocardia spp are variably resistant to antibiotics. Therefore, antimicrobial susceptibility testing for all specimens is essential; and the preferred method is broth microdilution.1 TMP/SMX remains the drug of choice for Nocardia spp. However N. farcinica had a high resistance rate to the prior antibiotic and to most beta-lactam.5 The severe and disseminated disease have a high mortality rate with monotherapy, therefore is recommended initial combination therapy.3 According to the clinical presentation and evolution, surgical treatment may be necessary; with CNS involvement most patients are likely to require drainage.6,7 The role of vitrectomy is uncertain, and intravitreal antibiotic recommended is amikacin.4,8 The duration of therapy depends on the site of infection and the immunological status of the patient. With CNS involvement the course must be established on clinical and imaging response (≥1 year).6,9 Delay in diagnosis is often associated with poor prognosis.7
Patient consent
A written informed consent was obtained from the patient's family.
Funding
The present research has not received any specific scholarship from public, commercial or non-profit agencies.
Conflict of interests
The authors do not have conflicts of interest to disclose.
Copyright © 2019. Elsevier España, S.L.U. and Sociedad Española de Enfermedades Infecciosas y Microbiología Clínica