Full Text
Ten years ago the Network Centre for Biomedical Research in Mental Health (CIBERSAM) was founded, its principal aim being to foster leading-edge collaborative translational research in mental health. It is also ten years since the Psychiatry and Mental Health Journal was created. This journal has been published side by side with CIBERSAM since its initiation and has published over 100 studies from CIBERSAM researchers. We have therefore decided to publish this article which provides a summary of CIBERSAM's professional trajectory throughout a decade in the Psychiatry and Mental Health Journal. Initially conceived as a collaborative research network (Mental Health, Affective and Psychotic Disorders Network [REM-TAP]), CIBERSAM was formally founded in 2007, and became effective in 2008 when it integrated the country's most prominent basic and clinical research groups in psychiatry, mental health and related sciences. This was made apparent by a special edition dedicated to it in 2009 by the European Journal of Psychiatry.1 CIBERSAM is open, competitive and meritocratic in nature, leading to dynamism. It is annually assessed and the appearance and withdrawal of groups is based on their productivity. Although some groups which were present at the beginning of CIBERSAM no longer form part of it, their contributions have also fostered progress in mental health research.
CIBERSAM currently comprises 24 consolidated research groups and 3 associated clinical groups which are organised into 6 research programmes (Fig. 1): depression and prevention of suicide; schizophrenia; bipolar disorder; therapeutic innovation; child and teenage psychiatry and psychosomatic disorders of anxiety and impulse control. These groups include researchers from public and private hospitals, universities and public research bodies. CIBERSAM also has collaborative structures including the research platforms (DNI collection, brain samples, neuroimaging platform and mental health instrumentation library) and cross-sectional programmes, including the training programme. This programme has become a national and international benchmark in mental health research training through the inter-university master's programme of initiation into mental health research2 or the International Forum on Schizophrenia, which annually attracts top-level international speakers.
The existence of these programmes and platforms has created increasingly solid collaborative bonds between the groups within CIBERSAM. This has led to many national and international multicentre projects of high scientific quality. At the beginning of 2018 CIBERSAM had 11 national projects, 6 European projects and 2 North American projects. Another major progress of CIBERSAM was its fostering of interdisciplinary work between basic and clinical groups which therefore led to translational research. Collaboration between these basic and clinical groups has, for example, led to the discovery of molecular mechanisms involved in the early anti-depressant response observed in patients with major depressive disorders treated by deep-brain stimulation.3
Throughout these years, the CIBERSAM groups have worked on projects which have allowed them to probe into the genetic, epigenetic and molecular bases involved in psychiatric disorders4–10 and have helped to better define neuroanatomic and cognitive changes associated with several mental illnesses.11–14 The FPEs (First Psychotic Episodes), a prospective multicentre study focused on patients with an initial psychotic episode, and is a perfect illustration of how the synergies between the CIBERSAM groups have contributed to the advance in mental health knowledge.15,16 The FPEs cohort has already generated over 20 publications in high impact journals, which have shed light on the role of inflammatory factors in response to antipsychotic treatment17 or on the influence of genetics on the appearance of adverse effects of antipsychotic drugs.18 Several intramural projects such as FlammFPEs have contributed, in an example of the utmost effort towards a specific aim, in broadening the objectives of these cohorts.19 CIBERSAM has also highlighted the importance of study of the initial stages of disorders in childhood and adolescence. As a result 2 cohorts, one of initial psychotic episodes in children and teenagers and another in children of patients with schizophrenia or bipolar disorder, have successfully been followed over time with different competitive assistance and have generated over 10 articles each.20,21 The later stages of mental disorders have also been the object of study, and include the introduction of a ground-breaking technique of cognitive and functional remediation rehabilitation for bipolar disorder which was designed and assessed by a clinical trial with participation from 10 CIBERSAM groups.22 Enhanced functioning in persons affected by mental disorders is one of the most productive areas of CIBERSAM.23,24
Since its early days CIBERSAM has invested its efforts equally in the discovery of new diagnostic approaches and new therapeutic targets in mental health,25–29 some of which have become patents. Projects led by CIBERSAM groups have identified the molecular mechanisms involved in the increased risk of developing psychosis which is associated with the chronic consumption of cannabis,30 and these may drive new preventative strategies.31 Furthermore, CIBERSAM researchers have used RNA interference in a novel way for the study of the physiopathology of major depressive disorder and have assessed its potential as a new antidepressant therapeutic strategy.32
CIBERSAM not only seeks to create bonds between groups involved in mental health research but also to actively work towards generating collaborative research studies in other CIBER areas and other cutting-edge research centres such as CNIO,33,34 which covers other illnesses such as respiratory disorders, obesity, cardiovascular illnesses or cancer. As a result, the number of inter-CIBER publications at present accounts for approximately 16% of the scientific production of CIBERSAM and they are carrying out inter-CIBER projects such as the project Understanding obesity (Ob), metabolic syndrome (MetS), type 2 diabetes (T2DM) and fatty liver disease (FL): a multidisciplinary approach, a collaborative project between CIBEREHD (Liver and Digestive diseases), CIBEROBN (Obesity and Nutrition), CIBERDEM (Diabetes and Associated Metabolic Diseases) and CIBERSAM.
An essential aspect of CIBERSAM culture is excellence. All the research group projects over the last 10 years have promoted CIBERSAM to be ranked number one in mental health research in Europe, with over 5000 published articles since its creation, around 81,000 references (Fig. 2) and an h index of 103, according to data extracted from the Web of Science (consulted on 29th August 2018). Another illustration of the investigative excellence in CIBERSAM is the fact that in 2014 almost 42% of its scientific production was published in journals of the first decile.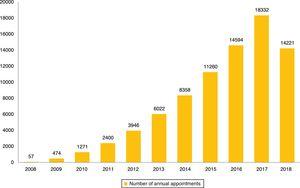 Figure 2.
Evolution of the number of references received annually by CIBERSAM between 2008 and 2018.
The graph shows the evaluation of the number of references received by CIBERSAM since its creation, according to Web of Science dates (consulted on 29th August 2018). The number of references has increasingly risen over the last 10 years. The drop observed in 2018 was due to the fact that the graph was created in that year and the number of references was only accumulated until August of that year. The projection of references for end of year 2018 was above 20,000
(0.12MB).
Over this long trajectory CIBERSAM has experienced periods of prosperity but also austerity in times of recession. Investment in research received a harsh setback during the recession from which it has unfortunately not yet fully recovered, unlike the financial recovery in other areas. Despite its difficulties CIBERSAM was able to adapt and maintain its philosophy, dedicating itself to further efforts to seek more effective therapeutic strategies and to advance in the early diagnosis and intervention in mental health,35 aimed at the implementation of these findings leading towards less costly psychiatry for the healthcare systems. CIBERSAM contributed to the White paper on early intervention in psychosis in Spain, a text where the introduction and efficacy of programmes aimed at primary and secondary prevention of these disorders in our country is evaluated and which state that only 38% of the Spanish population have access to early intervention programmes in mental health. CIBERSAM has worked with others to introduce cost-effective research also on an international level and since 2013 has led the coordination of the European research roadmaps through the ROAMER Project which has affected the definition of priority financing policies in mental health within the European Horizon 202036 programme which is being used as a benchmark for the contents of the future FP9, currently under discussion and which will be launched in 2021.
In recent years CIBERSAM's status as a centre of international reference has been key for maintaining its upward trend, thanks to its participation in many European strategic initiatives, such as the Innovative Medicines Initiative in its first and second programmes,37 and its ability to attract external financing. CIBERSAM is an increasingly more competitive structure internationally, with a high level of internationalisation. For example, CIBERSAM's incidence and visibility on a European level is tangible due to its first and second scientific directors (Celso Arango and Eduard Vieta) as president and treasurer of the European College of Neuropsychopharmacology (ECNP), the awarding of the ECNP Neuropsychopharmacology Award 2015 to Francesc Artigas, and the prize for the best world researcher of the year to Eduard Vieta by the Worldwide Federation of Societies of Biological Psychiatry (WFSBP) in 2017. Furthermore, thanks to the growing number of genetic samples in the DNA platform—which in 2017 surpassed 16,500—CIBERSAM has become an appealing partner for international consortiums of genetics in mental disorders38 and for the Psychiatric Genomics Consortium (PGC), the Autism Sequencing Consortium (ASC) and the International Consortium on Lithium Genetics (ConLiGen). As a result of this latter initiative in 2016 CIBERSAM and the ConLiGen international consortium identified an area of the genome associated with good response to treatment with lithium in bipolar disorder.39 CIBERSAM has recently published an article in Cell40 and another in Science41 on the genetics of schizophrenia, bipolar disorder and other mental disorders, both the fruit of international collaborations. The contributions of CIBERSAM and the international workgroup ENIGMA in the field of structural neuroimaging of obsessive compulsive disorder, autistic spectrum disorders, schizophrenia or bipolar disorder have recently been published in the American Journal of Psychiatry42,43 and in Molecular Psychiatry.44,45
CIBERSAM has been a major participator in international initiatives for the improvement of depression management and the prevention of suicide, such as the European Alliance Against Depression (EAAD),46 in examining the physical health of patients with mental disorders47 and the global burden of psychiatric diseases.48 The latter two initiatives demonstrate the great interest of CIBERSAM in addressing mental illnesses holistically rather than solely focusing on symptoms or molecular mechanisms. Since its creation CIBERSAM has published several consensual documents which focus on the physical health of patients with emotional disorders49,50 or schizophrenia51 and numerous recommendations by experts,52–56 leading the way to optimise their management. It aims at helping to adapt regular clinical practice to the real needs of the patient and to improve their quality of life.
To this end, CIBERSAM is currently promoting much more patient-centred medicine, with initiatives such as the development of the pharmacokinetic test57 or mobile applications58 that improve therapeutic adherence, reduction of side effects and prevention of relapses or complications such as suicidal behaviour. Another strategy driven by CIBERSAM for the prevention of suicidal behaviour is the Suicide Risk Code progamme.59 This programme supports intensive and personalised follow-up of patients at risk of suicide. Lately, European projects relating to personalised medicine in mental health have been obtained, including PRISM and RADAR, which suggests a promising future for CIBERSAM in this area. One task pending research in general psychiatry and particularly from CIBERSAM is to try to reduce the as of yet great distance between research and clinical practice.
One of CIBERSAM's essential principles is therefore to keep the patient at the centre of mental health investigation. To this end it has always stimulated fluent communication between mental health professionals and patient and family organisations through joint workshops, such as the Social Forum and CIBERSAM Meet-ups between mental health researchers, patients and family members, or through participation in collaborative projects with patient and family associations. A good example is the recent Voice Project, a survey designed to detect uncovered patient and carer needs. The active presence of CIBERSAM in social networks and the media also ensures that progress in research is within everybody's grasp. At present CIBERSAM has over 2300 followers on Twitter (@CIBER_SAM) and its web page receives over 100,000 annual visitors (www.cibersam.es).
Many advances have been made in mental health that have led to the creation of this collaborate structure, CIBERSAM, although there is room for improvement, mainly related to administrative task agility, limitations regarding contraction and the vulnerability to external changes of a political nature. Fortunately, the future is even more reassuring, given the great number of projects which are currently underway by consolidated researchers of international renown and also members of new generations. New generations demonstrate their talent each year in the Laboratory of Ideas for Young researchers, organised by CIBERSAM, now in its 6th edition. CIBERSAM is a clear example of what expert professionals may achieve when they believe in a common Project, which is the desire to contribute to better mental health for the general population at all ages, through leading-edge collaborative translational research.
Conflict of interests
Dr. Francesc Artigas received research funds financed by Lundbeck A/S and Spjerium and has collaborated as a consultant or speaker for Lundbeck A/S, Spherium and Neurolixis. He is also the co-inventor of patents on conjugated oliogonucleotides in collaboration with the company Life Therapeutics. Dr. Miquel Bernardo received research funds and has collaborated as a consultant or speaker for the following entities: ABBiotics, Adamed, Angelini, Casen, Eli Lilly, Janssen-Cilag, Lundbeck, Otsuka, Takeda, Somatics and the Ministry of Education, Culture and Sports, the Ministry of the Economy, Industry and Competitiveness, the Ministry of Science and Innovation, Instituto de Salud Carlos III, Network Centre for Biomedical Research in Mental Health (CIBERSAM), Generalitat de Catalunya, Secretary of Universities and Research from the Department of the Economy and Knowledge, the Foundation European Group for Research In Schizophrenia (EGRIS), and the 7th Framework Program of the European Union. Dr. Julio Bobes has received research grants, has been a consultant, advisor or speaker, in the last 5 years for: AB-Biotics, Acadia Pharmaceuticals, Casen Recordati, D&A Pharma, Gilead, Ferrer, Hoffman La Roche, Indivior, Janssen-Cilag, Indivior, Lundbeck, Mundipharma, Otsuka, Pfizer, Reckitt-Benckiser, Servier and Shire, has obtained financing for research from the Ministery of Economy and Competitivity — Centre for Biomedical Research in Mental Health (CIBERSAM) and Instituto de Salud Carlos III—, Ministry for Health, Social Services and Equality – National Drug Plan and the European Union's Seventh Framework Programme. Dr. Josep Maria Haro has received research funds and collaborated as advisor or speaker for the following entities: AstraZeneca, Eli Lilly and Co., Lundbeck, Otsuka, Roche, the Spanish Ministry of Science and Innovation (CIBERSAM), the European Union's Seventh Framework Programme (ENBREC), the Stanley Medical Research Institute, the Fundació La Caixa and the Generalitat de Catalunya. Dr. J Javier Meana has received research funds and collaborated as an advisor or speaker for the following entities: Iproteos, Janssen, Spanish Ministry of Science, Innovation and Universities, the Basque Government (IT-616-13) and the Seventh Framework Programme of the European Union. Dr. Jeronimo Saiz-Ruiz has participated as a conference speaker or expert for Adamed, Lundbeck, Servier, Neurofarmagen, Otsuka, Indivior, Schwabe y Janssen and has received funding for research from Public Agencies (CIBERSAM; F.I.S.; C.A.M.; University of Alcalá), Fundacion Canis Majoris, Lundbeck, Janssen, Medtronic and Ferrer. Dr. Roberto Rodriguez-Jimenez has received research funds, and has been a consultant or speaker on behalf of the following entities: Carlos III Health Institute, Fund for Health Research (FIS), Centre for Biomedical Research in Mental Health (CIBERSAM), Community of Madrid (S2010/BMD-2422 AGES; B2017/BMD-3740 AGES CM 2-CM), JanssenCilag, Lundbeck, Otsuka, Pfizer, Ferrer, Juste; Takeda. Dr. Eduard Vieta has receiveed research funds and has collaborated as a consultant or speaker for the following entities: AB-Biotics, Actavis, Allergan, Angelini, AstraZeneca, Bristol-Myers Squibb, Ferrer, Forest Research Institute, Gedeon Richter, Glaxo-Smith-Kline, Janssen, Lundbeck, Otsuka, Pfizer, Roche, Sanofi-Aventis, Servier, Shire, Sunovion, Takeda, Telefónica, la Brain and Behaviour Foundation, the Spanish Ministry of Science ans Innovation (CIBERSAM), Seventh European Framework Programme (ENBREC), and Stanley Medical Research Institute. The other authors have no conflict of interest to declare.
Acknowledgements
Our thanks to the Instituto de Salud Carlos III, to the Ministry of Science, Innovation and Universities, the European Regional Development Fund (ERDF) and all the researchers who form part of CIBERSAM.
Please cite this article as: Salagre E, Arango C, Artigas F, Ayuso-Mateos JL, Bernardo M, Castro-Fornieles J, et al. Diez años de investigación traslacional colaborativa en enfermedades mentales: el CIBERSAM. Rev Psiquiatr Salud Ment (Barc.). 2019;12:1–8.
Copyright © 2018. SEP y SEPB