Article information
Abstract
Full Text
Bibliography
Download PDF
Statistics
Abstract
Vasoplegic syndrome is a state of vasopressor resistant systemic vasodilation in the presence of a normal cardiac output. Its definition, pathophysiology, risk factors, diagnosis and therapeutic approach will be reviewed in this paper. It occurs frequently during cardiac surgery and is associated with high morbidity and mortality. A search in the LILACS, MEDLINE, and GOOGLE SCHOLAR databases was conducted to find the most relevant papers during the last 18 years.
Prompt identification and diagnosis of patients at risk must be undertaken in order to implement an optimal therapeutic approach. This latter includes early treatment with vasopressors with different mechanisms of action.
Keywords:
Cardiac surgical procedures
Intra-operative complications
Cardiopulmonary bypass
Vasoconstrictors
Vasoplegia
Vasoplegic syndrome
Resumen
El síndrome vasopléjico constituye un estado de vasodilatación sistémica refractaria al uso de vasopresores en presencia de gasto cardíaco normal. En el presente artículo se revisará la definición, fisiopatología, factores predisponentes el enfoque diagnóstico y terapéutico del mismo. Su ocurrencia es frecuente en el perioperatorio de cirugía cardíaca y se asocia a incrementos en morbimortalidad. Se llevó a cabo una búsqueda en las bases de datos LILACS, MEDLINE y GOOGLE SCHOLAR abarcando los artículos relevantes durante los últimos 18 años.
Se debe identificar los pacientes de riesgo en aras de realizar un diagnóstico y tratamiento precoz con vasopresores con diferentes mecanismos de acción.
Palabras clave:
Procedimientos quirúrgicos cardíacos
Complicaciones intraoperatorias
Derivación cardiopulmonar
Vasoconstrictores
Vasoplejía
Síndrome vasopléjico
Article
These are the options to access the full texts of the publication Revista Española de Anestesiología y Reanimación (English Edition)
Subscribe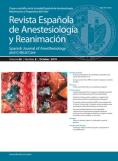 Subscribe to
Revista Española de Anestesiología y Reanimación (English Edition)
Contact
Phone for subscriptions and reporting of errors
From Monday to Friday from 9 a.m. to 6 p.m. (GMT + 1) except for the months of July and August which will be from 9 a.m. to 3 p.m.
Calls from Spain
932 415 960
Calls from outside Spain
+34 932 415 960
E-mail