Article information
Abstract
Full Text
Bibliography
Download PDF
Statistics
Abstract
Laparoscopic cholecystectomy is currently assumed to be the standard gold treatment of acute biliary tract pathology. Despite its many advantages compared to classical open surgery, it is not without complications.
The case is presented of an 82 year-old male patient who, after the diagnosis of cholecystitis gangrenous, was urgently intervened using laparoscopic cholecystectomy. During the first 24h after the surgery, he had an episode of acute respiratory failure, for which he was admitted to the Resuscitation Unit. Studies performed later showed a paralysis of the right diaphragm that was probably related to the surgery.
Keywords:
Cholecystectomy
Laparoscopy
Diaphragm paralysis
Phrenic nerve
Resumen
La colecistectomía laparoscópica supone hoy en día el tratamiento gold estándar de la patología aguda de la vía biliar. A pesar de las numerosas ventajas que presenta respecto a la cirugía abierta clásica, no está exenta de complicaciones.
Presentamos el caso de un paciente varón de 82 años que tras el diagnóstico de colecistitis gangrenosa es intervenido de urgencia de colecistectomía laparoscópica, presentando en las primeras 24h del postoperatorio un episodio de insuficiencia respiratoria aguda, motivo por el cual ingresa en reanimación. Los estudios realizados a posteriori mostraron una parálisis del hemidiafragma derecho, probablemente relacionada con la cirugía.
Palabras clave:
Colecistectomía
Laparoscopia
Parálisis diafragma
Nervio frénico
Article
These are the options to access the full texts of the publication Revista Española de Anestesiología y Reanimación (English Edition)
Subscribe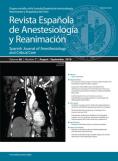 Subscribe to
Revista Española de Anestesiología y Reanimación (English Edition)
Contact
Phone for subscriptions and reporting of errors
From Monday to Friday from 9 a.m. to 6 p.m. (GMT + 1) except for the months of July and August which will be from 9 a.m. to 3 p.m.
Calls from Spain
932 415 960
Calls from outside Spain
+34 932 415 960
E-mail