Article information
Abstract
Full Text
Bibliography
Download PDF
Statistics
Abstract
Obstetric haemorrhage can endanger the lives of mother and foetus. It often occurs unexpectedly without clear predictors. A high degree of suspicion helps to avoid delaying resuscitation measures. We present the case of a ruptured ovarian metastasis that occurred during labour. It caused a massive bleed forcing a caesarean section due to non-reassuring foetal status. This was an unprecedented and undescribed onset of Krukenberg tumour formation. Malignant tumours in pregnancy are rare and difficult to diagnose due to their clinical manifestations which often overlap with those of pregnancy itself (dyspepsia, nausea and bloating). Despite the available therapeutic measures, a delay in diagnosis is a determining factor for long-term prognosis. We review the causes of obstetric bleeding, and underline how rare Krukenberg tumours concomitant to pregnancy are.
Keywords:
Obstetric haemorrhage
Postpartum haemorrhage
Krukenberg tumour
Resumen
La hemorragia obstétrica puede poner en riesgo la vida de la madre y del feto y a menudo se presenta de forma inesperada sin claros factores de riesgo. Su identificación precoz contribuye a no demorar las medidas de reanimación. Se presenta el caso de una rotura de metástasis ovárica durante el trabajo de parto responsable de sangrado masivo que obligó a una cesárea por pérdida de bienestar foetal, un inicio no descrito previamente en el tumour de Krukenberg. Los tumores malignos del embarazo son infrecuentes y difíciles de diagnosticar ya que sus manifestaciones clínicas a menudo se solapan con las del propio embarazo (dispepsia, náuseas y distensión abdominal). Un retraso en el diagnóstico comporta un pronóstico infausto a largo plazo. Se revisan las causas de sangrado obstétrico, subrayando la rareza del tumour de Krukenberg concomitante al embarazo.
Palabras clave:
Hemorragia obstétrica
Hemorragia posparto inesperada
Tumor de Krukenberg
Article
These are the options to access the full texts of the publication Revista Española de Anestesiología y Reanimación (English Edition)
Subscribe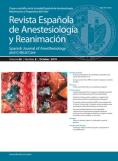 Subscribe to
Revista Española de Anestesiología y Reanimación (English Edition)
Contact
Phone for subscriptions and reporting of errors
From Monday to Friday from 9 a.m. to 6 p.m. (GMT + 1) except for the months of July and August which will be from 9 a.m. to 3 p.m.
Calls from Spain
932 415 960
Calls from outside Spain
+34 932 415 960
E-mail