Article information
Abstract
Full Text
Bibliography
Download PDF
Statistics
Abstract
Erector spinae plane block (ESPB) as postoperative analgesia method has been successfully carried out in several surgical interventions. Postoperative pain treatment for caesarean section is considered one of the important challenges for anesthesiologists due to the risk of chronic pain development and even pospartum depression. Regional anaesthesia techniques were effectively used to prevent the pain together with multimodal analgesia regimes in caesarean section. Formerly, successful erector spinae plane block was documented as postoperative analgesia treatment for caesarean section; however, no motor weakness was recorded as a side effect. In this case report, we present an unexpected motor weakness as a side effect of the erector spinae plane block after caesarean delivery operation in a 29-year-old patient. To our knowledge, this is the first report of motor weakness related to the ESPB.
Keywords:
Obstetric anaesthesia
Regional anaesthesia
Resumen
El bloqueo del plano del erector de la columna (ESPB), como método de analgesia postoperatoria, se ha realizado exitosamente en diversas intervenciones quirúrgicas. El tratamiento del dolor postoperatorio tras la cesárea se considera uno de los retos más importantes para los anestesiólogos, debido al riesgo de desarrollar dolor crónico e incluso de depresión posparto. Las técnicas de anestesia regional han sido utilizadas eficazmente para prevenir el dolor, en conjunción con regímenes anestésicos multimodales en la práctica de cesáreas. Anteriormente, el bloqueo del plano del erector de la columna ha sido documentado como un tratamiento analgésico postoperatorio tras la realización de cesáreas; sin embargo, no había sido registrada la debilidad motora como efecto colateral. En este reporte de caso, presentamos un caso de debilidad motora accidental como efecto colateral al bloqueo del plano del erector de la columna, tras una cesárea practicada a una paciente de 29 años. A nuestro entender, se trata del primer caso reportado de debilidad motora relacionado con el ESPB.
Palabras clave:
Anestesia obstétrica
Anestesia regional
Article
These are the options to access the full texts of the publication Revista Española de Anestesiología y Reanimación (English Edition)
Subscribe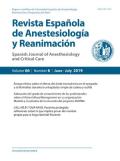 Subscribe to
Revista Española de Anestesiología y Reanimación (English Edition)
Contact
Phone for subscriptions and reporting of errors
From Monday to Friday from 9 a.m. to 6 p.m. (GMT + 1) except for the months of July and August which will be from 9 a.m. to 3 p.m.
Calls from Spain
932 415 960
Calls from outside Spain
+34 932 415 960
E-mail