Article information
Abstract
Full Text
Bibliography
Download PDF
Statistics
Abstract
The insertion of a central venous catheter is a procedure frequently performed in pediatric anesthesia. The most frequent approach for this procedure is the internal jugular vein. However, some specific factors in children, such as the short neck and the easy collapse of this vein, which is accentuated in situations such as hypovolaemia and changes in the respiratory pattern, can lead to greater difficulty. The supraclavicular approach of the subclavian vein was described more than 50 years ago. However, it is not often considered nowadays, even after the introduction of ultrasound, and despite the obvious advantages with respect to the internal jugular approach due to the lower incidence of thrombosis and infection. This document reviews the considerations of the supraclavicular approach according to the available evidence in pediatric anesthesia, discusses the feasibility and safety of the procedure, and finally describes the technique of ultrasound-guided puncture.
Keywords:
Central venous catheterization
Ultrasound
Subclavian vein
Pediatric anesthesia
Resumen
La inserción de un catéter venoso central es un procedimiento realizado frecuentemente en anestesia pediátrica. El abordaje más utilizado para este procedimiento es la vía yugular interna. Sin embargo, algunos factores específicos en los niños como el cuello corto y el fácil colapso de esta vena, el cual se acentúa en situaciones como la hipovolemia y los cambios en el patrón respiratorio, pueden determinar mayor dificultad. El abordaje supraclavicular de la vena subclavia se describió hace más de 50 años. No obstante, muy poco se considera en la actualidad, incluso tras el auge del ultrasonido y a pesar de las notorias ventajas respecto al abordaje yugular interno como la menor incidencia de trombosis e infección. Este documento plantea las consideraciones del abordaje supraclavicular de acuerdo a la evidencia disponible en anestesia pediátrica, se expone la factibilidad y seguridad del procedimiento y finalmente se describe la técnica de punción guiada por ultrasonido.
Palabras clave:
Catéter venoso central
Ultrasonografía
Vena subclavia
Anestesia pediátrica
Article
These are the options to access the full texts of the publication Revista Española de Anestesiología y Reanimación (English Edition)
Subscribe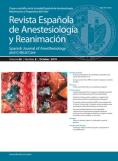 Subscribe to
Revista Española de Anestesiología y Reanimación (English Edition)
Contact
Phone for subscriptions and reporting of errors
From Monday to Friday from 9 a.m. to 6 p.m. (GMT + 1) except for the months of July and August which will be from 9 a.m. to 3 p.m.
Calls from Spain
932 415 960
Calls from outside Spain
+34 932 415 960
E-mail