Article information
Abstract
Full Text
Bibliography
Download PDF
Statistics
Abstract
X-linked adrenoleukodystrophy (X-ALD) belongs to a family of rare diseases due to inborn errors of metabolism. It has a wide spectrum of clinical manifestations that anaesthesiologists should recognise during the perioperative period (respiratory centre dysfunction, hypotonia, adrenal or hepatic failure, gastroesophageal reflux disease, osteopenia, seizures). The case is presented of a 42-year-old X-linked adrenoleukodystrophy female carrier, who underwent combined general and an ultrasound-guided interscalene brachial plexus block anaesthesia for shoulder arthroscopy. Induction was performed with thiopentone and fentanyl, and sevoflurane was used as inhaled maintenance agent. No events were recorded during the procedure. Her post-operative recovery was satisfactory and she was later discharged home.
Keywords:
Adrenoleukodystrophy
Anaesthesia
Long chain fatty acids
Carriers
Resumen
La adrenoleucodistrofia ligada al cromosoma X (ALD-X) pertenece al grupo de enfermedades raras debidas a errores congénitos del metabolismo. Clínicamente, presenta diferentes manifestaciones que el anestesiólogo debe tener en cuenta durante el perioperatorio (disfunción respiratoria, hipotonía, insuficiencia suprarrenal o hepática, reflujo gastroesofágico, osteopenia, crisis epilépticas). Se presenta el caso de una mujer de 42 años portadora del gen que fue sometida a anestesia general combinada para artroscopia de hombro. Se hizo bloqueo ecoguiado del plexo braquial a nivel interescalénico, inducción anestésica con tiopental y fentanilo, y mantenimiento con sevofluorano. El procedimiento transcurrió sin incidencias, la evolución postoperatoria fue favorable y la paciente fue dada de alta a domicilio.
Palabras clave:
Adrenoleucodistrofia
Anestesia
Ácidos grasos de cadena larga
Portador
Article
These are the options to access the full texts of the publication Revista Española de Anestesiología y Reanimación (English Edition)
Subscribe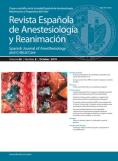 Subscribe to
Revista Española de Anestesiología y Reanimación (English Edition)
Contact
Phone for subscriptions and reporting of errors
From Monday to Friday from 9 a.m. to 6 p.m. (GMT + 1) except for the months of July and August which will be from 9 a.m. to 3 p.m.
Calls from Spain
932 415 960
Calls from outside Spain
+34 932 415 960
E-mail