Article information
Abstract
Full Text
Bibliography
Download PDF
Statistics
Abstract
Objective
To evaluate microcirculation in intermediate and high mortality risk patients undergoing cardiac surgery (CS) with cardiopulmonary bypass (CPB).
Patients and methods
The study included 22 patients with a Euroscore >3. Using the Videomicroscopy Side Stream Dark Field system, and evaluation was made of, capillary density, proportion of perfused capillaries, density of perfused capillaries, microcirculatory flow index (MFI), and heterogeneity flow index. Three to five video sequences were recorded: after induction of anaesthesia (T1), at the beginning of the CPB (T2), before finalising CPB (T3), at the end of the surgery, and before the patient was transferred to Intensive Care Unit (T4). Mean arterial pressure decreased, while the blood lactate increased significantly, when comparing the initial and final values (P<.05). MFI increased significantly in T3 and T4 (P<.05) with regards to the initial values. When the patients with and without postoperative complications were compared, significant differences were found in, Euroscore, left ventricular ejection fraction, and MFI in T3.
Conclusions
In patients with intermediate/high preoperative risk, CS and CBP can involve an increase in MFI and blood lactate at the end of the study. These alterations suggest the possibility of a functional microcirculatory shunt at tissue perfusion level, secondary to the surgical injury and the CPB. Further investigation is needed to have a better understanding of the mechanisms involved.
Keywords:
Microcirculation
Cardiac surgery
Cardiopulmonary bypass
Side stream dark field
Surgical risk
Resumen
Objetivo
Evaluar la microcirculación en pacientes de riesgo quirúrgico intermedio y alto, sometidos a cirugía cardíaca (CC) con circulación extracorpórea (CEC).
Pacientes y métodos
Se estudió a 22 pacientes con Euroscore superior a 3. Se evaluó con la técnica de videomicroscopía Side Stream Dark Field: densidad capilar, proporción de capilares perfundidos (PCP), densidad de capilares perfundidos, índice de flujo microvascular (IFM) e índice de heterogeneidad de flujo microvascular. Se grabaron de 3 a 5 secuencias de vídeo: luego de la inducción anestésica (T1), al inicio de la CEC (T2), antes de finalizar la CEC (T3) y una vez finalizada la misma, previo al traslado del paciente a la Unidad de Terapia Intensiva (T4). La presión arterial media disminuyó mientras que el lactato arterial aumentó de manera significativa al comparar valores basales y finales (p<0,05). El IFM aumentó significativamente en T3 y T4 (p<0,05) respecto del valor inicial. Al comparar a los pacientes con y sin complicaciones postoperatorias, se encontraron diferencias significativas en: Euroscore, fracción de eyección del ventrículo izquierdo preoperatoria e IFM en T3.
Conclusiones
En pacientes con riesgo preoperatorio intermedio/elevado, la CC y la CEC determinaron un aumento del IFM y del lactato arterial hacia el final del período de estudio. Estas alteraciones plantean la posibilidad de un shunt microcirculatorio funcional a nivel de la perfusión tisular, secundarios a el traumatismo quirúrgica y la CEC. Es necesario profundizar la investigación a efectos de una mejor comprensión de los mecanismos involucrados.
Palabras clave:
Microcirculación
Cirugía cardíaca
Circulación extracorpórea
Side stream dark field
Riesgo quirúrgico
Article
These are the options to access the full texts of the publication Revista Española de Anestesiología y Reanimación (English Edition)
Subscribe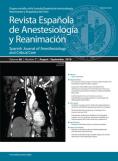 Subscribe to
Revista Española de Anestesiología y Reanimación (English Edition)
Contact
Phone for subscriptions and reporting of errors
From Monday to Friday from 9 a.m. to 6 p.m. (GMT + 1) except for the months of July and August which will be from 9 a.m. to 3 p.m.
Calls from Spain
932 415 960
Calls from outside Spain
+34 932 415 960
E-mail