Article information
Abstract
Full Text
Bibliography
Download PDF
Statistics
Abstract
Neuropathic pain is very challenging to manage because of the heterogeneity of aetiologies, symptoms, and underlying mechanisms. Conventional oral therapies have been limited by negative factors such as systemic side effects, drug–drug interactions, slow onset of action, the need for titration, multiple daily dosing, as well as the potential risk of addiction, dependence, withdrawal symptoms, and abuse. Therefore new therapeutic perspectives are justified. New drugs that act on different therapeutic targets are currently in preclinical development or in their first phases of clinical development. In this review, focus will be directed specifically on new pharmacological treatments for neuropathic pain for which clinical data are already available, including older and known drugs with new data on their anti-neuropathic activity.
Keywords:
BIIB074
Neuropathic pain
EMA401
Fulranumab
Mirogabalin
Botulinum toxin type A
Resumen
El dolor neuropático es difícil de tratar debido a la heterogeneidad de causas, síntomas y mecanismos subyacentes. Los tratamientos orales convencionales se han visto limitados por factores negativos, como efectos secundarios sistémicos, interacciones farmacológicas, inicio de acción lento, necesidad de ajuste de la dosis, administración de múltiples dosis diarias, y posible riesgo de adicción, dependencia, síntomas de abstinencia y uso excesivo. Por tanto, se justifican nuevas perspectivas terapéuticas. Actualmente, se encuentran en desarrollo preclínico o en sus primeras fases de desarrollo clínico nuevos fármacos que actúan sobre diferentes dianas terapéuticas. En esta revisión nos centraremos expresamente en nuevos tratamientos farmacológicos para el dolor neuropático para los cuales ya se dispone de datos clínicos, incluyendo fármacos más antiguos y conocidos con nuevos datos sobre su actividad antineuropática.
Palabras clave:
BIIB074
Dolor neuropático
EMA401
Fulranumab
Mirogabalina
Toxina botulínica tipo A
Article
These are the options to access the full texts of the publication Revista Española de Anestesiología y Reanimación (English Edition)
Subscribe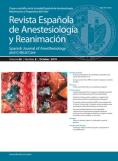 Subscribe to
Revista Española de Anestesiología y Reanimación (English Edition)
Contact
Phone for subscriptions and reporting of errors
From Monday to Friday from 9 a.m. to 6 p.m. (GMT + 1) except for the months of July and August which will be from 9 a.m. to 3 p.m.
Calls from Spain
932 415 960
Calls from outside Spain
+34 932 415 960
E-mail