Article information
Abstract
Full Text
Bibliography
Download PDF
Statistics
Abstract
Takotsubo cardiomyopathy is part of the group of diseases called stress-induced cardiomyopathies. Its usual clinical presentation is indistinguishable from an acute coronary syndrome. However, early diagnosis is important, as it may debut as a cardiogenic shock in approximately 8% of cases, with morbidity and mortality rates comparable to those of acute coronary syndrome. For this reason, although it is a relatively infrequent condition, the perioperative period is a stress factor that can act as a trigger of this pathology. A case is presented of the onset of Takotsubo cardiomyopathy as a cardiogenic shock during admission in a Postoperative Recovery Unit.
Keywords:
Takotsubo
Cardiomyopathy
Stress
Cardiogenic shock
Hypotension
Resumen
La cardiomiopatía de Takotsubo forma parte del conjunto de enfermedades llamadas cardiomiopatías inducidas por estrés. Su presentación clínica habitual es indistinguible de un síndrome coronario agudo. Sin embargo, es importante una sospecha diagnóstica temprana, pues puede comenzar en forma de shock cardiogénico en aproximadamente un 8% de los casos, con tasas de morbimortalidad comparables a las del síndrome coronario agudo. Por este motivo, a pesar de que sea una patología relativamente infrecuente, el ámbito quirúrgico siempre supone un factor de estrés que puede actuar como factor desencadenante de esta patología. A continuación se presenta un caso de comienzo de una cardiomiopatía de Takotsubo en forma de shock cardiogénico durante el ingreso en nuestra Unidad de Reanimación Postoperatoria.
Palabras clave:
Takotsubo
Cardiomiopatía
Estrés
Shock cardiogénico
Hipotensión
Article
These are the options to access the full texts of the publication Revista Española de Anestesiología y Reanimación (English Edition)
Subscribe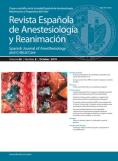 Subscribe to
Revista Española de Anestesiología y Reanimación (English Edition)
Contact
Phone for subscriptions and reporting of errors
From Monday to Friday from 9 a.m. to 6 p.m. (GMT + 1) except for the months of July and August which will be from 9 a.m. to 3 p.m.
Calls from Spain
932 415 960
Calls from outside Spain
+34 932 415 960
E-mail