Article information
Abstract
Full Text
Bibliography
Download PDF
Statistics
Abstract
Mastocytosis is a disease characterised by an abnormal proliferation of mast cells. The degranulation of mast cells can be triggered by chemical, physical, and psychological factors, and in severe cases may be accompanied by cardiovascular alterations and shock. Tryptase concentrations greater than 20μg/L may be associated with an increased risk of mastocyte degranulation. The case is presented on a 71 year-old man that underwent an aortic valve replacement and aortic-coronary bypass surgery. He had an indolent systemic mastocytosis and a history of histaminergic crises, with a baseline value of tryptase prior to surgery of 58.1μg/L.
Keywords:
Mastocytosis
Cardiac surgery
Anaphylaxis
Prevention
Pre-medication
Resumen
La mastocitosis es una enfermedad caracterizada por una proliferación anormal de los mastocitos. La degranulación de los mastocitos puede desencadenarse por factores químicos, físicos y psíquicos, y en casos graves puede cursar con alteraciones cardiovasculares y shock. Concentraciones de triptasa superiores a 20mcg/l se podrían correlacionar con mayor riesgo de degranulación mastocitaria. Presentamos el caso de un varón de 71 años sometido a cirugía de sustitución valvular aórtica y derivación aortocoronaria con mastocitosis sistémica indolente, con antecedentes de crisis histaminérgicas y con valores basales previos a la cirugía de tripatasa de 58,1mcg/l.
Palabras clave:
Mastocitosis
Cirugía cardíaca
Anafilaxia
Prevención
Premedicación
Article
These are the options to access the full texts of the publication Revista Española de Anestesiología y Reanimación (English Edition)
Subscribe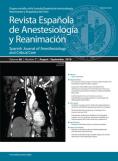 Subscribe to
Revista Española de Anestesiología y Reanimación (English Edition)
Contact
Phone for subscriptions and reporting of errors
From Monday to Friday from 9 a.m. to 6 p.m. (GMT + 1) except for the months of July and August which will be from 9 a.m. to 3 p.m.
Calls from Spain
932 415 960
Calls from outside Spain
+34 932 415 960
E-mail