Article information
Abstract
Full Text
Bibliography
Download PDF
Statistics
Abstract
Brugada syndrome (BrS) is a rare and high risk condition, seldom encountered in the delivery room. Pregnant patients with BrS benefit from the lowest possible doses of arrhythmogenic drugs such as local anaesthetics. Based on this premise, the following case report exposes how a subarachnoid approach might be a desirable technique in C-section procedures for BrS patients. Pain and anxiety management are priorities in this specific population. Peri-partum planning, with a previous anesthesiology appointment and mutidisciplinary care in tertiary hospital facilities are crucial to avoid complications.
Keywords:
Brugada syndrome
Arrhythmia
Subarachnoid anestesia
Resumen
El síndrome de Brugada (SBr) es una condición infrecuente y de alto riesgo que rara vez se encuentra en la sala de partos. Las pacientes embarazadas con SBr se benefician de las dosis más bajas posibles de fármacos arritmogénicos, como los anestésicos locales. Sobre la base de esta premisa, el siguiente caso expone cómo un abordaje subaracnoideo podría ser una técnica deseable en los procedimientos de cesárea para pacientes con SBr. El manejo del dolor y la ansiedad es prioritario en esta población específica. La planificación periparto, con una cita previa de anestesiología, y la atención multidisciplinaria en las instalaciones de hospitales terciarios son cruciales para evitar complicaciones.
Palabras clave:
Síndrome de Brugada
Arritmia
Anestesia subaracnoidea
Article
These are the options to access the full texts of the publication Revista Española de Anestesiología y Reanimación (English Edition)
Subscribe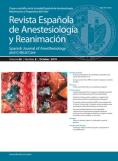 Subscribe to
Revista Española de Anestesiología y Reanimación (English Edition)
Contact
Phone for subscriptions and reporting of errors
From Monday to Friday from 9 a.m. to 6 p.m. (GMT + 1) except for the months of July and August which will be from 9 a.m. to 3 p.m.
Calls from Spain
932 415 960
Calls from outside Spain
+34 932 415 960
E-mail